Pre-requisites: N/A
Topics Covered
Document management
Target Users
Content Managers
Required Permissions
Content Manager
Introduction
In ATLAS Welkom Center you can upload documents and link the to topics. E.g. You have a Topic about Housing and you want to provide the Housing Questionnaire to the end-user.
The document appears at the topic with a link, which is related to the topic, for download.
Note: without a linked Topic the document will not appear at your post site
Add a document
To add a document you navigate to the 'Administration' and click on 'Documents'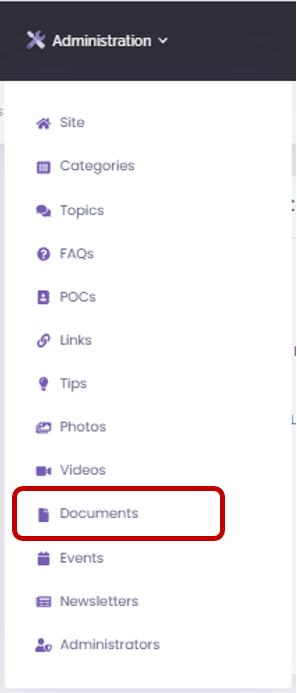 The 'Document' window appears and you click on 'Add'
A new window opens for you.
Now you have two choices to upload the document: you link it directly to a topic or you just upload it.
first option: without a topic:
You provide the Title, the Description and pick the file from your workstation.
Now click on 'Upload'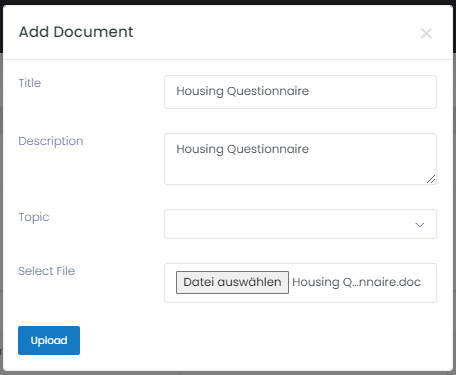 The file appears in the list without a topic. You can come back later and assign the topic. Read more about this at the next chapter below.

Second option: linking the file to a topic
You provide the information for the file and click on the drop-down menu to pick the topic, double-click on the topic and then on 'Upload'
Now the file appears with the related topic on the list.

Please keep in mind: without a topic the document will not appear!!!
How to maintain documents
To maintain a document you have to navigate to the Documents like shown above.
To edit the Document information click on the little 'Pencil' icon

At the Edit 'Details' you can change the name, the description add, change or remove the topic for the document.
Please do not forget to click on the 'Update' button.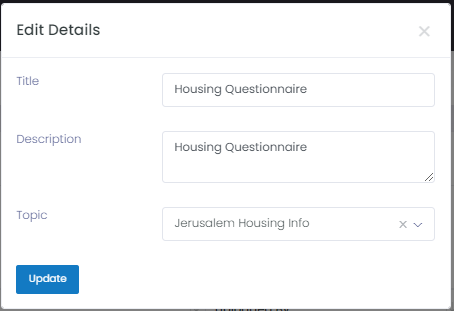 Note: If you want a document linked to two different topics, you have to upload this document a second time and link it right away to the topic, which is desired.
Deleting a Document
If you want to delete a document navigate to the Documents like shown above.
Click on the little 'Recycle Bin' button at the right side of the line and the document get deleted.