Pre-requisites: Put the text for the yellow box on top of the article here.
Topics Covered
Additional Catergory
Target Users
Content Managers
Required Permissions
Content Managers
Introduction
We added a new Category for you which you can switch on or off like you need at post. You can rename this Category to meet your need and add information about very special topics at your post which are outside of the four default categories.
How to setup/edit the new Category
To set up the additional Category you navigate to the 'Administration' drop-down at the top bar and click on 'Categories'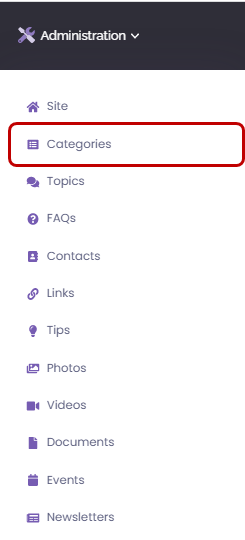 At the 'Categories' window you see the fith Category named 'Other'

Click on the little 'Pen' icon

At the 'Edit Category' window you add the new name for the Category and turn on 'Enabled' switch to make the Category viewable at the start page.

The Enable switch turns into blue.

Don't forget to click on 'Save Changes' at the right upper corner

How to hide the additional Category
Just navigate to the Edit Category page like shown above and switch the 'Enabled' off. The Enabled button appears in grey now.

Don't forget to click on 'Save Changes' at the right upper corner