As of February 2018, eContact now has some limited capability to create and manage in-app seating charts. Limitations in early versions may not perfectly meet the needs of some users, though. For instance, would you like to create something that you can share with staff at an official residence and get back with edits? For cases like those, generating an external seating chart as described below may still be a useful tool to keep in your bag: A sample template that you can use easily with your Excel exports is attached here. 
The file is separated into three tabs, but usage is simple: Copy names into the second tab or worksheet (in a single column - "Local Name" suggested), and then place people where you want them in the third tab.

Click on any of the squares in the grid, and you can arrange the layout of a space, a large table, or a set of small tables. The first name will be randomly selected, followed by a selector for an empty seat and a list of names in the order entered.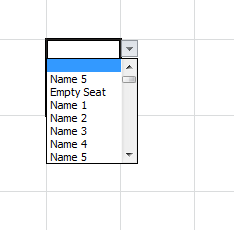 Adapted from this source, with a video explanation: https://tekhnologic.wordpress.com/2015/08/31/excel-at-seating-plans/
Have you found a better solution or workaround for this? If so, please let us know. While any alternative to in-app seating charts will lack dynamic updates as your events change, they may still have their place. Select mobile apps on an iPad or similar device can still be useful.
PS: If you find something better, please drop us a line!