Barcodes are created in the Merged PDF tab in an email campaign, and are exclusive to campaigns tied to an event. This will help your guests print their invitations to present at your event in a clear, predictably-formatted way.
Note the "Insert Barcode" button below, accessible only within a Campaign linked to an event in the Merged PDF tab. Navigate to the Merge tab within the editor for the PDF attachment to create your barcode:
Step 1: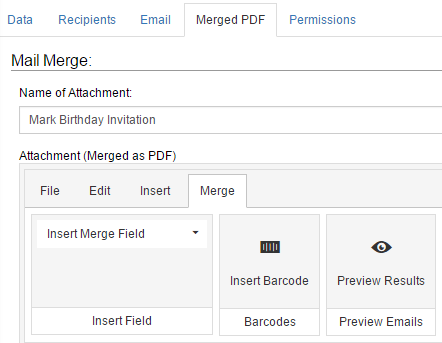 Step 2: Barcode options (Recommend default settings and, where viable, QR Codes)

Step 3: Final product

Want to adjust its position? Select the barcode label inserted above and use the Edit tab to modify the layout. For example, you could set it to "centered" alignment: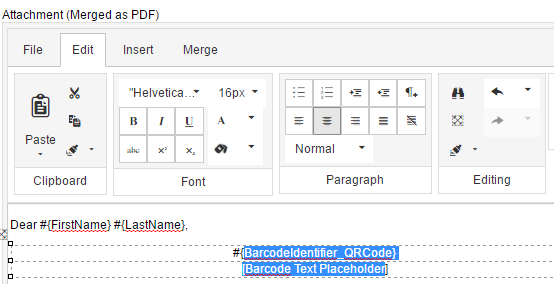 The barcode image size is fixed, with a number of large and easily visible 1D barcodes and a smaller but more robust 2D QR code option. If you have compatible readers, consider upgrading! These 2D barcodes feature better error handling, and can offer reliability gains in the field.
Like other applications commonly used in the Department, eContact expects data to be read into it as text, using a barcode reader that works as if it were a USB keyboard. 2D-ready barcode scanners can frequently be found in mailrooms (the newer Honeywells) and consular offices.
Barcode samples: