Topics Covered
Configuring Post Settings
Target Users
Housing Admin
Required Permissions
Local Admin

Editing Post Instance
To edit the Post Instance, click on the Manage Local Settings found below Configuration on the left side of the screen. You will then see four options: Edit Housing Instance, Rental Benchmark, Edit Email Preferences, and Edit Residence Portal. Click on each option and make your edits, then click Save on the top right hand corner of the page.

Edit Housing Instance
This is where the Locality Code, Area Unit etc. can be edited.

Rental Benchmarks

Email Preferences

Editing Resident Portal in Local Settings
The information input here will be visible to the Residence Portal. Here, a custom Post welcome message can be displayed, information about the Post, questionnaire instructions, as well as a Post banner image.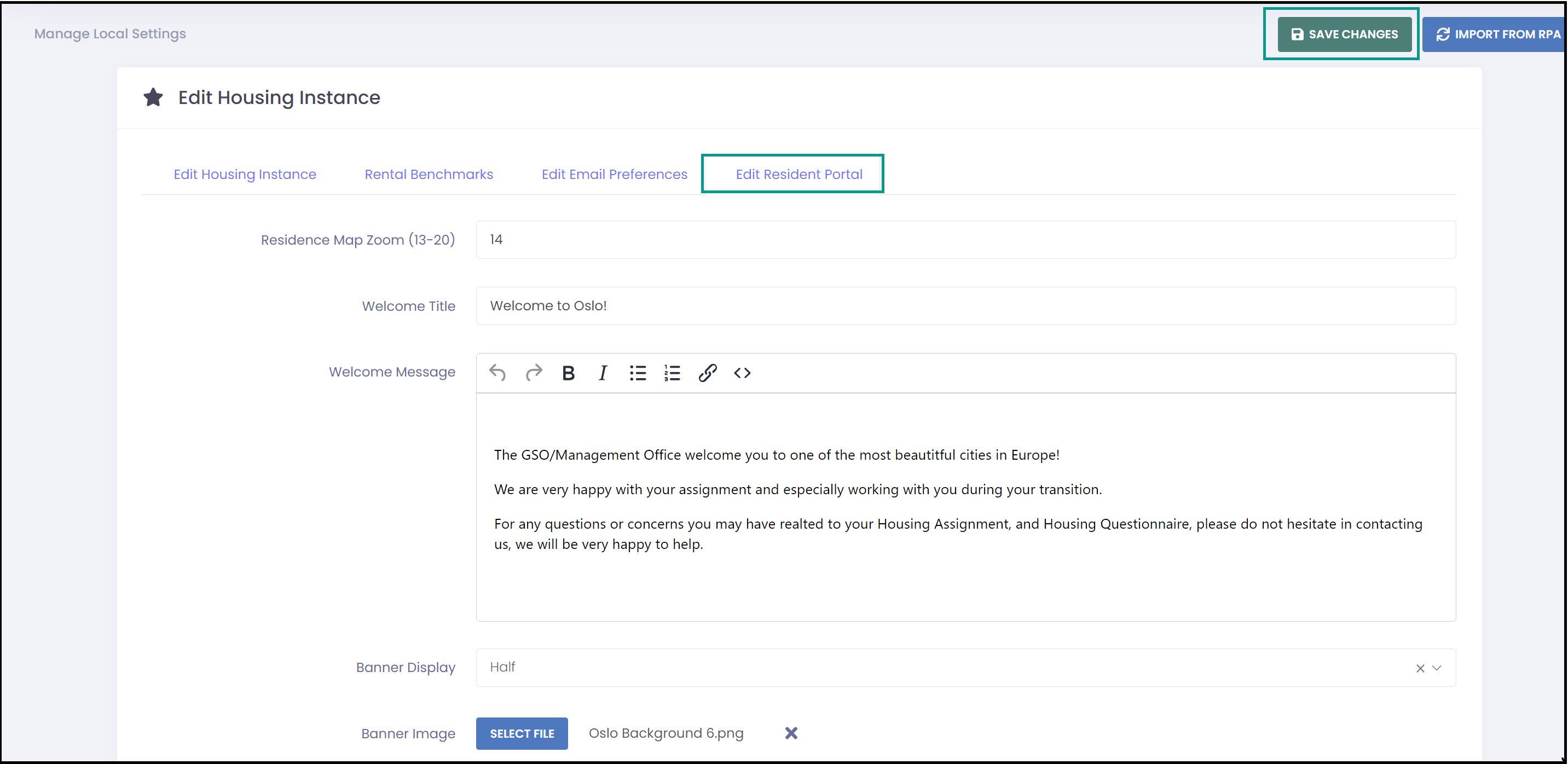 Welcome Message: Share a short yet positive introduction about your Post/Consulate to the employee. Explain that they will receive an email shortly with a link to the ATLAS Housing questionnaire and the importance of filing it out within a timely manner as to maintain housing timeline tasks without delays.
Pre-Questionnaire Instructions: You can provide specific instructions about your housing questionnaire, what is expected and in how many days Post/Consulate is expecting a reply from the employee.
In Progress Questionnaire Instructions: You may explain the type of questions and answers that you are expecting to receive and how important it is to set an arrival date in order to be ready without delays. You also can explain that you need an alternate email address to be in communication while the employee is traveling. (Some officers do not have access to their State account during this time)
If preferred, you may explain the type of residences that you have at Post and why you are offering only that type. Sometimes, USDH have knowledge of different types of residences at specific Posts and they wonder why they are not allowed to select those.
Post Questionnaire Instructions: You may explain what is next after receiving the questionnaire and how long it may take to do the assignment. Do not give specific dates because this can take some time depending on residences availability.
As you can see you are free to add any information that you would like to share with your USDH and EFMS.
For additional help, please contact ISC at Post or ADG Support by selecting the 'Submit a request' button at the top of the page or by emailing 

adg-support@state.gov.
Visit the Global Application Portal (GAP) for the latest news and information on all the ADG's applications.