As of March 2018, eContacts now supports bulk imports and updates to your contacts from Excel: This option is very useful and powerful. It is a wizard style interface that will walk you through import steps 1 to 5 until import is complete.
Before starting import make sure that your excel file meets following requirements:
The Excel spreadsheet must have a header row across the top of the spreadsheet in the first row.
The data should begin in the second row of the first column cell A2 (beneath the header cell A1)
Use separate header for every data: eg. last name, first name.
Only one cell of the row beneath the header name must be used for each data entry.
Anything that is not part of the data should be removed from the spreadsheet.

When the file is ready for use you can start import process.
Import from button is found on the Contact Interface on the toolbar.      Click Import from > Select file.

A new window will pop up. Click on Select File and choose the excel file from which you would like to import the data.

After selecting the Excel file click on Upload & Process

Make sure that you select correct filed from the drop down menu of Corresponding Contact Property. Excel Header and  Corresponding Contact Property must match.

Scroll down the window and follow the steps.
Step 3: Select import action
Step 4: Choose default values: ContactOf, access Limit and category. These fields are mandatory.
Step 5: Click on Process to finish the upload process.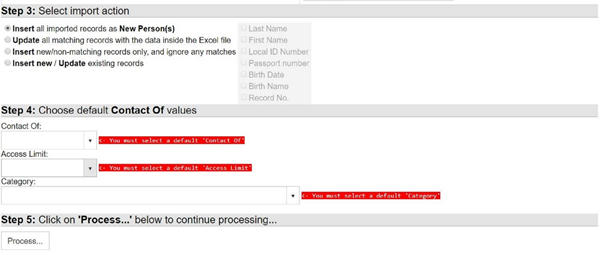 Contributed by eContact trainer Salome Chipashvili - Thanks Salome! -SMC