As of May 2nd, 2018 all old web address (URLs) are no longer accessible and auto-forwarding to the new URLs has stopped.  Please update your bookmarks and favorites to the new URL.
Old: econtact.eur.state.sbu 
New: econtact.state.sbu
Background Information
In August of 2017, we in RSC updated our application servers as part of our plan to increase performance for our regionally hosted OpenNet applications.
At that time we also updated our application website addresses (URLs); one example is we updated the original eContact URL of econtact.eur.state.sbu to econtact.state.sbu. This should have been transparent to you, our customers, as you were automatically routed to the new URL.
On May 1st, 2018 we will be permanently shutting down the old servers, which have been running to ensure our redirects to new URLs continued working, and at that time some redirect may no longer work as expected.
In preparation for the this, starting on the 19th of March if you are still using the old URLs you will be prompted with this notice to update your bookmarks.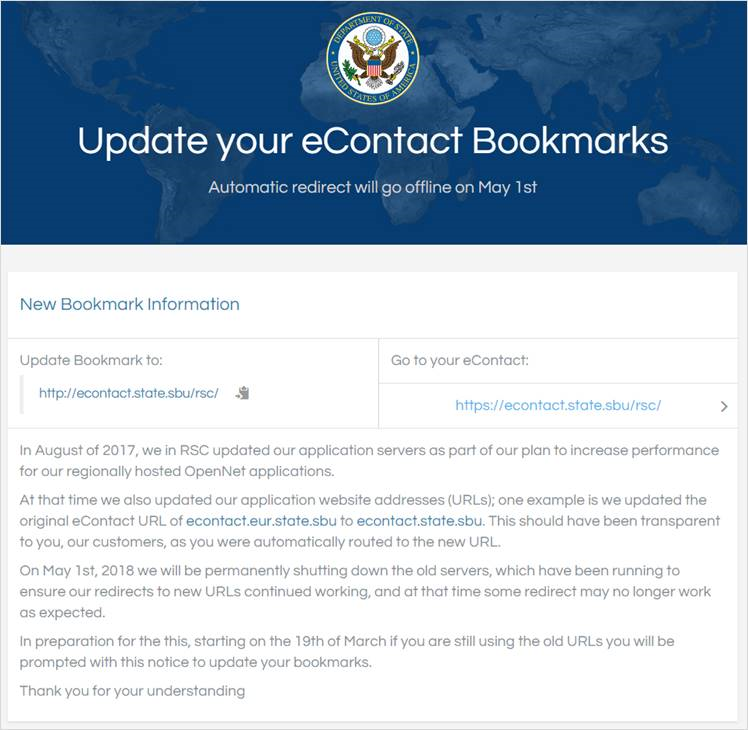 Thank you for your understanding.