eContact
Post 4th of July Event Survey
August, 2018
Webinar Recording:
A webinar will be held to review this survey and at that time the link to the recording will be added here.
Increase of Customer Satisfaction

The initial results of the eContact post 4th of July, 2108 survey is looking very positive and we see a significant overall upward trend of satisfaction with the application and an increase in overall use of eContact for the 4th of July events, a 40 percentage increase in reported customer satisfaction since 2017!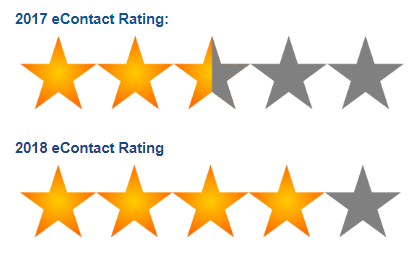 Compared to the post 4th of July, 2017 events survey we are seeing the following increases in satisfaction:



| | |
| --- | --- |
| Overall Satisfaction | 40% |
| Participation Management | 32% |
| Event Management | 25% |
| Campaigns/Invitations | 18% |
| Customer Support | 29% |

Insights
The same trend can be seen in all other aspects of the survey to include the satisfaction of managing participants where the 4 and 5 star ratings went from 31.37% to 63.15% in 2018 and when sending the invitations where it went from 18% to 36.11%.
The use of our offline check-in tool also increased and the we received the most positive feedback yet from this application such as:
"To those who are still using the old CMD program, I suggest that you move over to the eContact asap, because of the offline checkin tool."
The survey helps highlight the continued need for development and training for this application, one that will be used at least as far out as 2020. Thanks to all participating posts for the feedback, which is critical to help us prioritize further improvements.
eContact and CMD Usage for 4th of July Event:
| | |
| --- | --- |
| eContact | 81% |
| CMD | 15.5% |
| Other | 3.5% |
Check-In Usage:
| | |
| --- | --- |
| eContact Offline Check-in | 55.2% |
| eContact (built in Check-In) | 17.2% |
| Local Developed App | 7% |
| CMD | 10.4% |
| Other (Excel/paper/etc) | 10.2% |
Areas of Improvements
Based of the comments from the survey, the following items were rated as areas of improvement still within the application
Performance
Campaign Invitation Sending
Labeling
Reporting