Topics Covered
All Assigned Users
Target Users
Post Administrators
Required Permissions
Post Administrator
Introduction
Post Administrators can easily view all the tasks that are currently assigned at their Post and to whom they are assigned.
Assigned Tasks
In the left-hand menu, select 'Assigned Tasks'.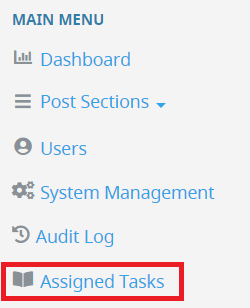 A list of the assigned tasks will display. In this view, there are four columns: the status of completion, the last date of completion, the assignee's e-mail address, and the task action description.