Pre-requisites: Users who are registering to ADS needs to have a valid State.gov or departmentofstate.Onmicrosoft.com account
Topics Covered:
Target Users:
Employees
Service Providers
Organization Administrators
Required Permissions
Introduction
ADS will authenticate the users with the State.gov email ID or with DepartmentOfState.OnMicrosoft.com email ID. Make sure that registering users have any of these two email accounts.
What are the different email IDs needed for ADS Authentication?
The ADS application authenticates and authorizes the user based on the userID. The application uses 2 tenants or email domains for authentication. They are:
state.gov
DepartmentofState.OnMicrosoft.com
It is recommended to use State.gov account for user authentication whenever it is available. If the user does not have a state.gov account, the user can request for a DepartmentofState.OnMicrosoft.com account by sending a request to (aaaaa@ DepartmentofState.OnMicrosoft.com)
The user can login into ADS application using the URL https://ads.state.gov/. The user may login with state.gov or departmentofState.OnMicrosoft.com. Please see Image-1 below.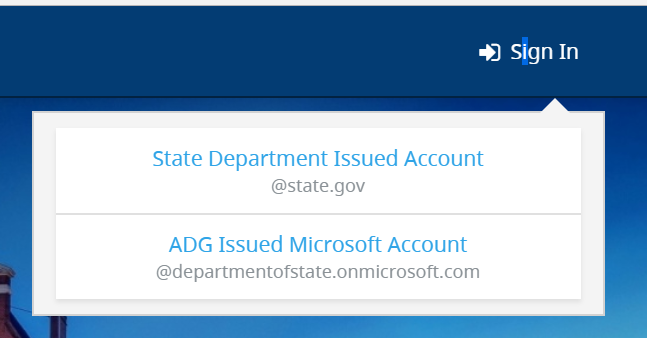 Image-1
The application will prompt the user for a password. Once the password is authenticated, the user will be redirected to a ADS registration page.
Mapping state.gov account to departmentofState.onmicrosoft.com account.
In some situations where a user cannot use the state.gov account to access the ADS application, the account preference feature in ADS will allow the user to map state.gov account to departmentofState.OnMicrosoft.com account. This will allow the user to access the ADS application using departmentofState.OnMicrosoft.com.
This feature is available from Account Settings -> Account Logins menu. Please see Image-2 and 3 below.

Image-2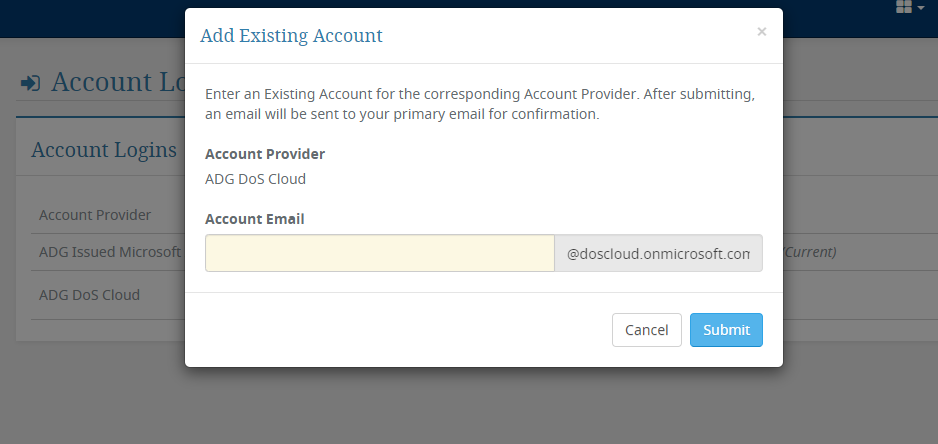 Image-3