Pre-requisites: Employee needs to have a active or pending PCS assignment with household members added to the assignment.
Topics Covered:
Target Users:
Employees
Service Providers
Organization Administrators
Required Permissions:
Introduction
ADS will allow employees to set and update arrival and departure dates for employees and the household members accompanying him/her to as assignment.
Set/update Arrival and Departure dates and for Employee
Login to ADS with user credentials. From the employee dashboard, select the home menu. The assignment page displayed will show all of the employee's active and pending assignments. The current assignment will be listed at the top and then all pending assignments will be listed. Please see Image-1 below.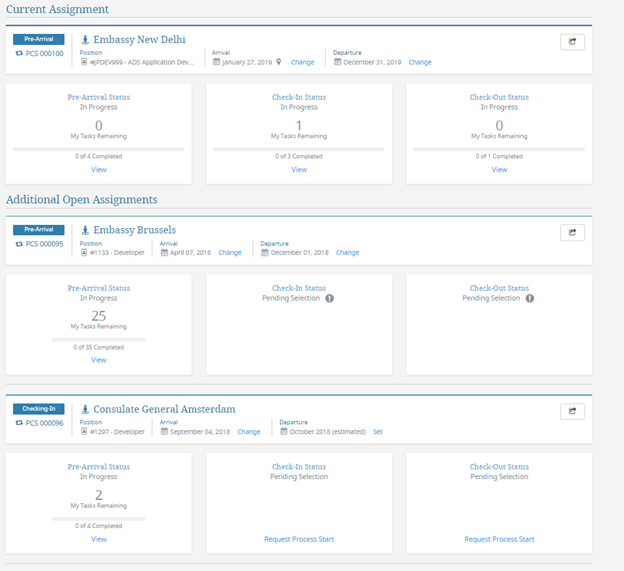 Image-1

The employee may set/update the arrival & departure dates for current assignment or pending assignments. To update dates, select "View" image for each assignment. This action will display the Assignment details page as in the Image-2 below.



Image-2

To Set/Change the Arrival date for this assignment, select the "Set" or "Change" link under Arrival. This action will display a model dialog as displayed in Image-3 below. Similarly, to Set/Change the departure date for this assignment, select the "Set" or "Change" link under departure.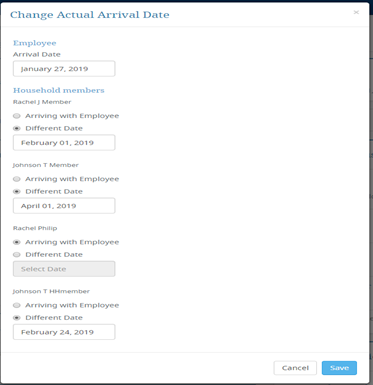 Image-3
Set/Update Arrival and departure dates for Household members for an Assignment

From the above model dialog in Figure-3, the employee can set/update the arrival dates for the household members for the assignment. The employee can set date to:
Arriving with Employee
Set a date value for the arriving date
Similarly, the employee can set/update the departure dates for the household members for the assignment. The employee can set the date to:
Departing with employee
Set a date value for the departure date