Pre-requisites: A Service Provider with Manage Account Invitations permissions can initiate a registration process for an employee.
Topics Covered:
Target Users:
Service Providers
Organization Administrators
Required Permissions:
Manage Account Invitations
Introduction
ADS will allow an authorized Service Provider to initiate a employee registration using the Account Invitations feature. The employee will get an email notification with a temporary password. Using this credentials, the employee can login to ADS and complete the registration process.  
As a Service Provider(SP) for a post, one of the roles and responsibilities is to Initiate a Registration Process for another employee in the ADS Application. Login to the ADS application with SP privileges and go to the SP dashboard. Please select the "Account Invitations" menu as shown in Image-1 below.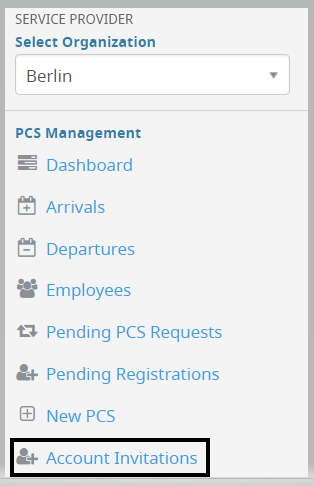 Image-1
The "Create a User Account" page will be displayed. The 3 important sections in this page are
Registration Type
Employee Details
Active Directory Account
Employee Registration Type
An employee can be registered as an
Arrival/New Hire
Incumbent/Departure
Service Provider
Please see Image-2 below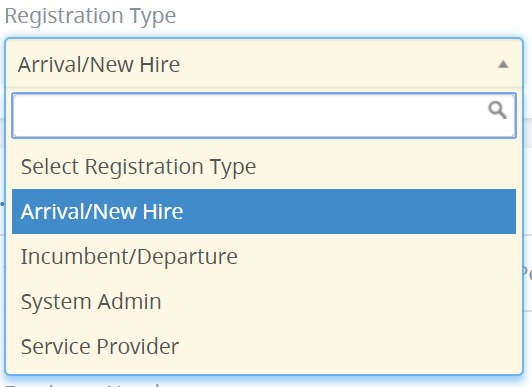 Image-2
Add Employee Details
To successfully complete the User registration, all required fields (text box with yellow color) in the form need to be entered. The "Add Primary Email" information is important because an message is send to this email notifying that an ADS registration has been initiated for him by a Post Service provider. Under Assignment section, the users Post, Start Month and Task Process can be set. Please see Image-3 below. Assignment sections will be dynamically changed based on the registration type.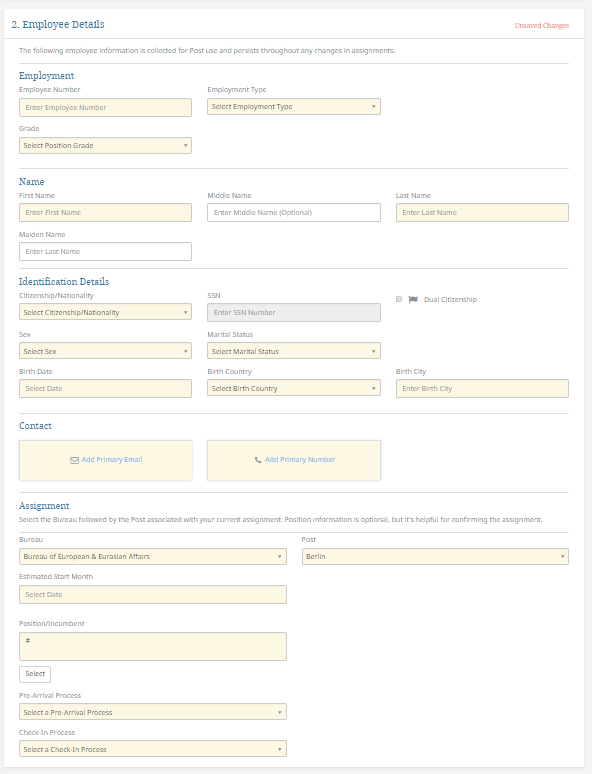 Image-3
Active Directory Account
The 2 trusted tenants (or domains) in ADS application are listed below in Image-4. If the user likes to have an "ADG Issued Microsoft Account" like test1@departmentofstate.OnMicrosoft.com, an ADS System Admin can create it for the user. If the user already has a Department of State account like test1@dos.gov, then it is recommended to be used for the ADS Account Registration.

Image-4
If all the necessary data elements are entered, a user registration will be created upon selecting the "Create" button. The ADS application will send an email notification to the user's Primary email and a "Pending Registration" record will be created. This pending record needs be approved by an SP or a System admin.
---
Please see article
How can a SP Approve or Reject a pending Registration Request?