Pre-requisites: A data collection task needs to be assigned to the employee and employee must have permission to complete the task.
Topics Covered:
Target Users
Service Providers
Organization Administrators
Required Permissions:
Introduction
A service provider can create a task to collect data from an employee/Assignee. This type of task can be created using the "Data Collection" task type. When the task is completed by the employee or assignee, the requested data is entered by the employee.
Configure Data Collection Task
The process to create the task is same as "How will I create a task in a Sub-Process?" except that I need to select the Task Type as "Data Collection". 
From the Edit Process form, select the tab "Type". From the drop down for Task Type, select "Data Collection". 
The drop down "Field Type" contains the type of data that can be requested from an employee/assignee. 
Predefined PCS Field

 

Task Specific File Field

 

Task Specific 

Select

 Field

 

Task Specific 

Date

 Field

 
Please see the Figure-1 below.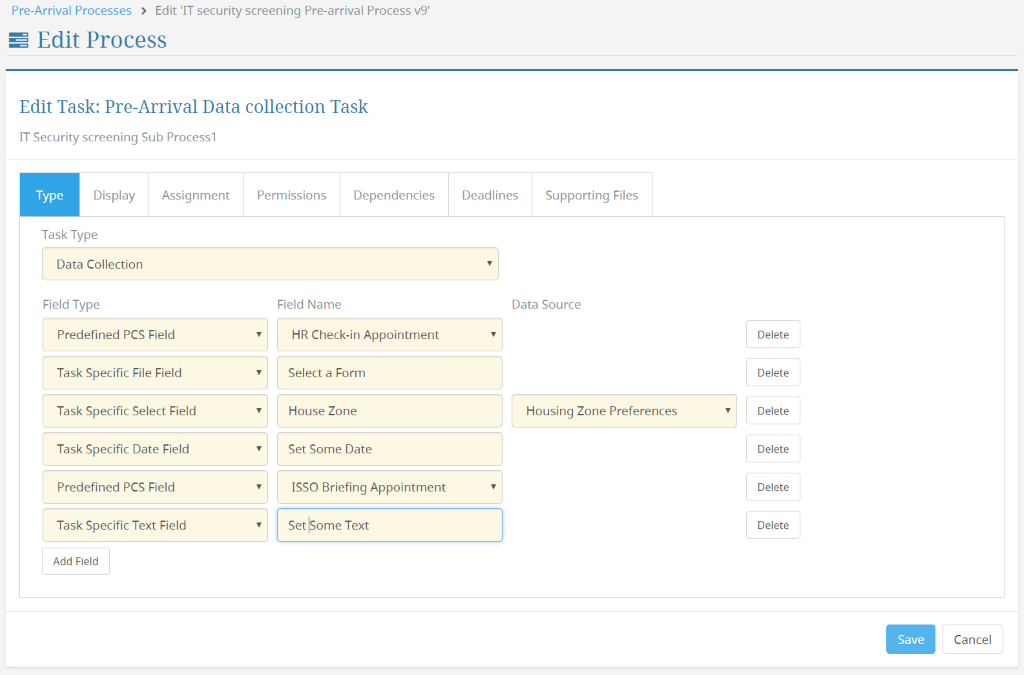 Figure-1
The application will allows a SP to request several PCS data, several text, date and lookup data from the employee as shown in Figure-1 above. The employee needs to enter the values for these fields during task completion. If the SP needs the employee to upload a file, the "File Upload" field type needs to be added to task. Also make sure that task is assigned to the "Employee" by using the Assignment Tab. Once the SP save this task and publish the process, this process is available from the Employee Assignment page. 
Complete the Data Collection Task
When the employee completes the task from Assignment Details page, he/she should enter the data for each data collection requested field. Please see Figure-2 below.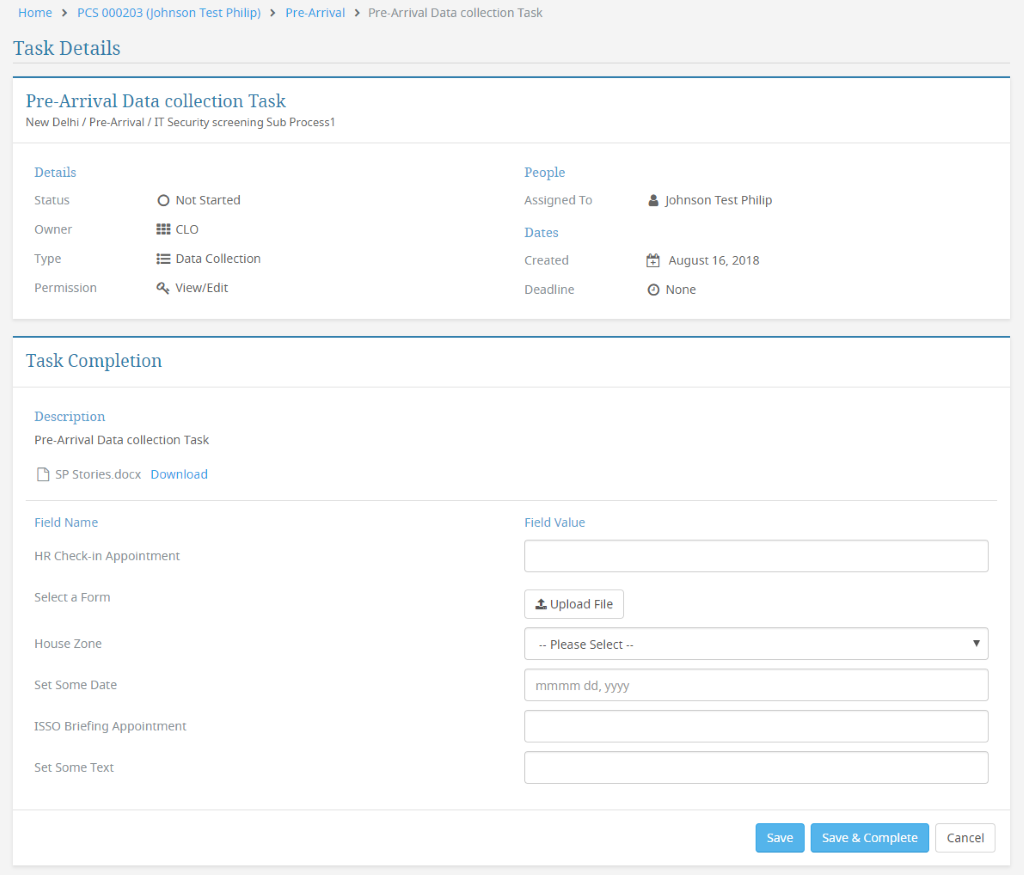 Figure-2
In this use case, the employee needs to enter/set data for the requested fields before Saving and Completing the task. 
HR Check-in Appointment

 (Enter a value)

 

Select a Form

 (Upload a form)

 

House Zone

 (Select a house zone from drop down)

 
Set Some Date

 (Enter a value for date)

 

ISSO Briefing Appointment

 

(

Enter a value

)

 

Set Some Text

 

(Enter a value)

 
Related Articles: 
How will I create a task in a Sub-Process? 
How will I create a PCS Request?