Topics Covered:
Target Users:
Service Providers
Organization Administrators
Required Permissions:
Introduction
A Service Provider (SP) or a user with "Manage Process" permissions can create a Process (Pre-Arrival, Check-In, Check-Out) in the ADS Application. A task is created in a sub-process. A sub-process can have multiple tasks. Please see the articles "How can I create a process in a Post?" and "How can I create a sub-process for a Process?" to create a Process and sub-process. 
Create a Task for a Post
To create a task, select Post Management -> Pre-Arrival will display the Managing Process page. This page lists all Pre-Arrival Process created. Select the "Edit" image for a process item to edit the process, add a sub-process or a task. Please see Figure-1 below.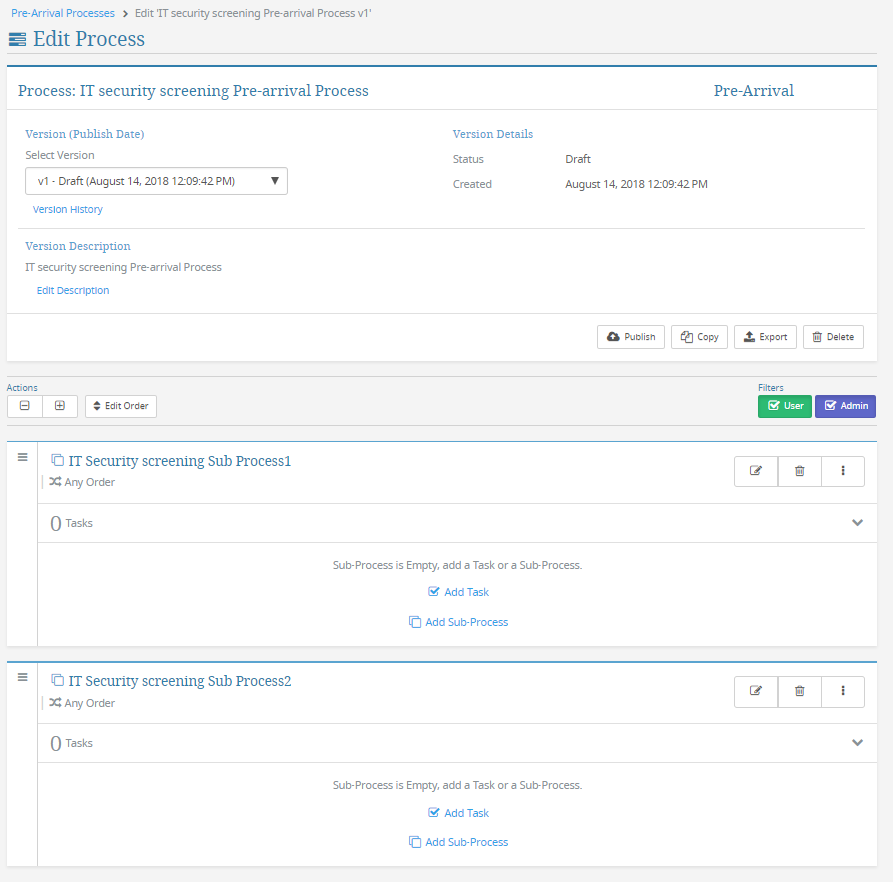 Figure-1
To create a Task under a sub-process, select the "Add Task" link from the bottom of each sub-process. 
The following are different types of Tasks: 
Checkbox

 

Data Collection

 

File Upload

 

Electronic Signature

 

System Action

 
Every Tasks needs to have data values for: 
Type

 

Display

 

Assignment

 

Permissions

 
Configure Task Type Tab
To create a checkbox task, select Checkbox from Task Type drop down as in Figure-2 below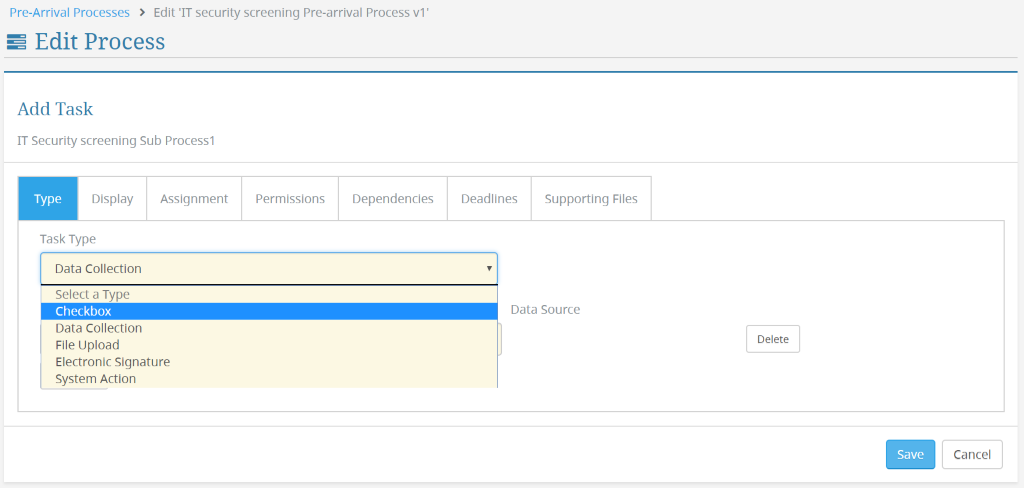 Figure-2
Configure Task Display

 Tab
Enter the name of the Task, select the Section or Department this task could be assigned to and enter a short description for the task. Please Figure-3 below.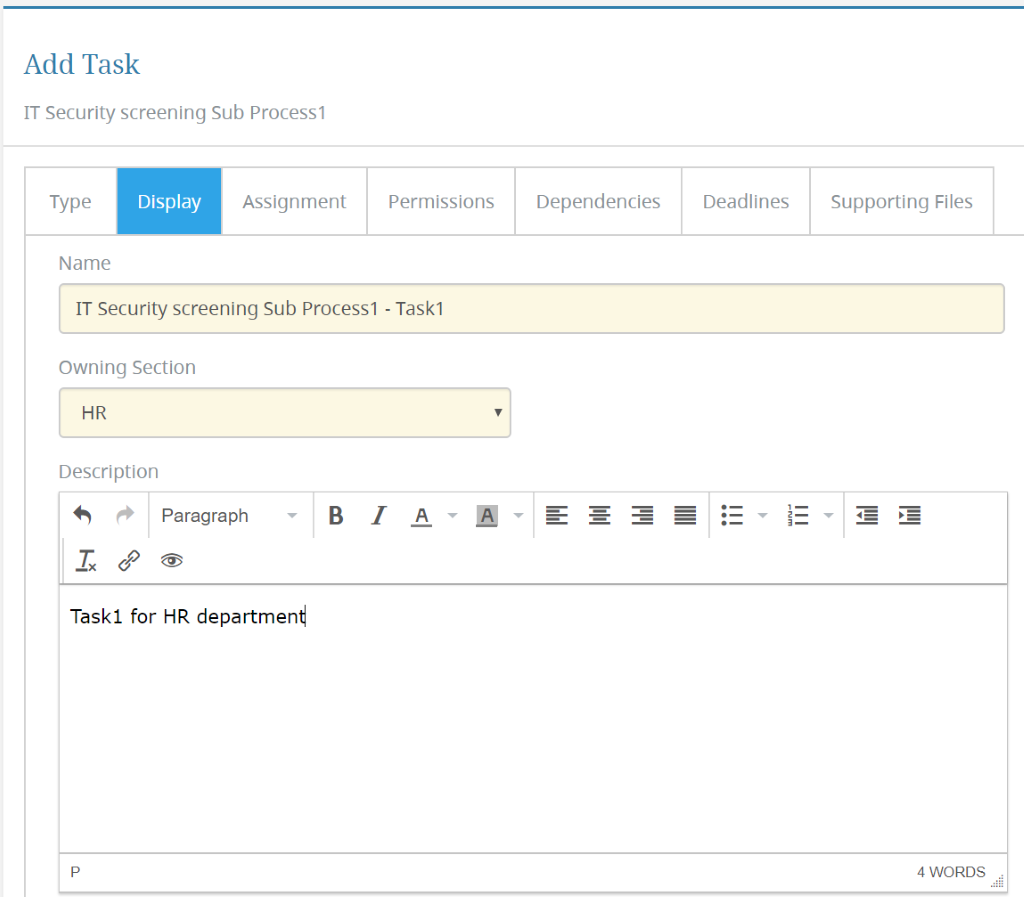 Figure-3
Configure Task Assignment Tab

:
A task can be assigned to an employee/user or to a Post Service Provider. To assign the task to a user, select "Assign to User" from drop-down. To assign the task to a "Service Provider", select "Assigned to Service Provider Group" and then select the appropriate group from "Assigned Service Providers" drop-down. Please see Figure-4 below. Since this is an HR task, it is proper to select "HR-Admins" Group from the drop-down.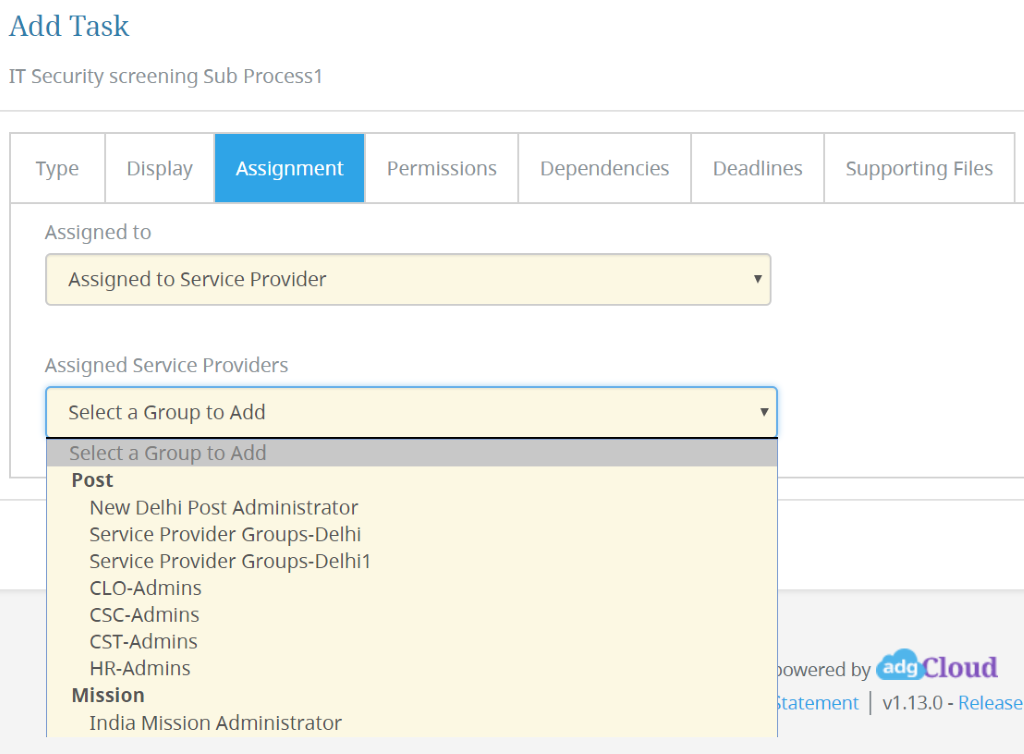 Figure-4
Configure Task Permissions Tab
A task has "View" and "View/Edit" permissions. If the task is assigned to a user, then by default the employee will have View and Edit permissions for the task. Also, the application will allow to set "View" or "View/Edit" permissions for other Service provider groups. Please see Figure-5 below. In this scenario...  
Employee has 

"View/Edit" permissions

 for the Task

 
HR-Admins group

 has "View/Edit" permissions for the Task

 

New-Delhi Post Administrators and 

CLO-Admins

 have 

"View" permissions for the Task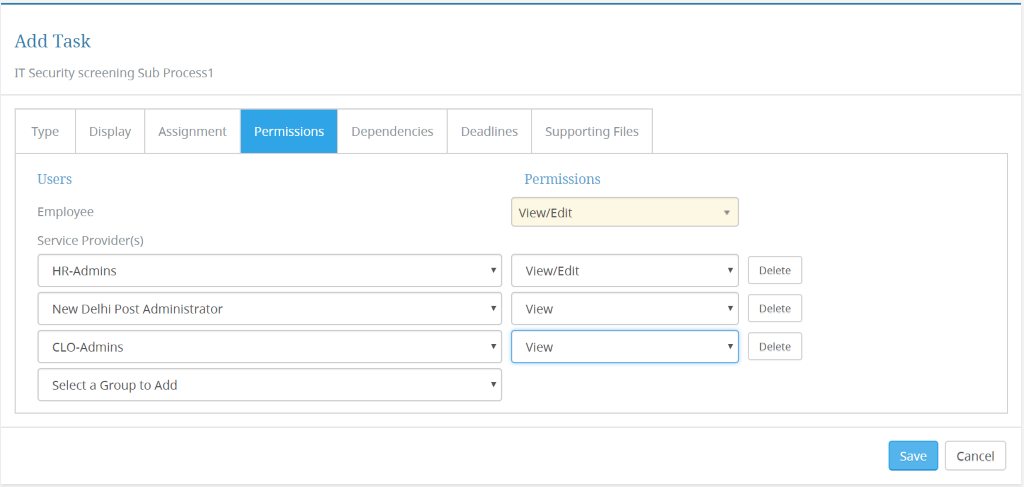 Figure-5
Now that all the required data components of the task are set, it is ready to be saved. When I select the "Save" button, the task is saved, and it can be seen under the Process -> Sub-process. 
Related Articles: 
How will I create a process in a Post? 
How will I create a sub-process for a Process?