Topics Covered:
Target Users:
Service Providers
Organization Administrators
Required Permissions:
Introduction
ADS will allow the authorized users to create Required or Optional Tasks with a process. When the Option task is assigned to a user for completion, the user can now set a "Not Applicable" flag for optional Tasks and then set the Task to complete. 
How to create an Options Task
A Service Provider (SP) or a user with "Manage Process" permissions can create a Process (Pre-Arrival, Check-In, Check-Out) in ADS Application. If the logged in user is a SP for post, he/she can access the "Post Management" feature in the application. Please see Figure-1 below. 

Figure-1
Required or Optional Tasks can be created in the Pre-Arrival Process, Check-in Process and in the Check-out Process. Please see the articles below on how to create a Process, Sub-Process and a Task in ADS. 
How will I create a process in a Post?

 

How will I create a subprocess for a Process?

 

How will I create a task in a Sub-Process?

 
To create a Pre-Arrival task, select Post Management -> Pre-Arrival. The UI will display the Managing Process page. This page lists all Pre-Arrival Processes created. Select the "Edit" image for a process item to edit the process and add a sub-process or a task. Please see Figure-2 below.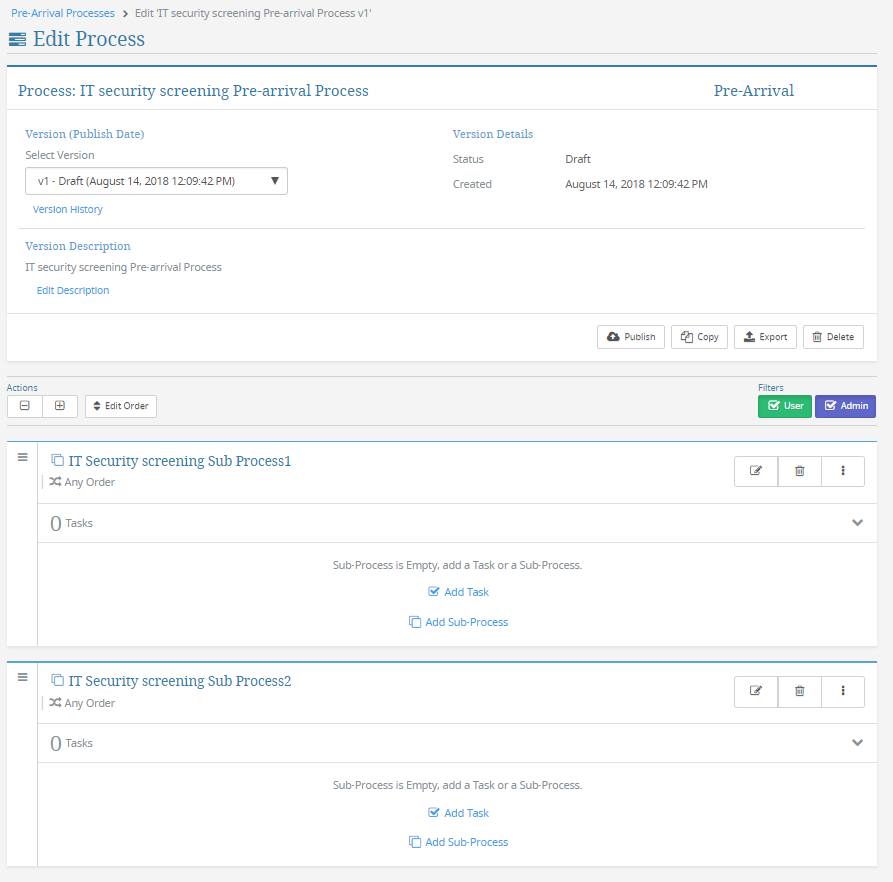 Figure-2
To create a Task under a sub-process, select the "Add Task" link from the bottom of each sub-process. 
The following are different types of Tasks: 
Data Collection

 

File Upload

 

Electronic Signature

 

System Action

 
Every Tasks needs to have data values for: 
Type

 

General

 

Assignment

 

Permissions

 
To create a Required or Optional Task, Go to the "General" tab of the Edit Task UI. Please Figure-3 below. 
From the drop-down "Requires Completion", 
To make the Task completion required: Select YES

 

To make the Task Completion Optional: Select No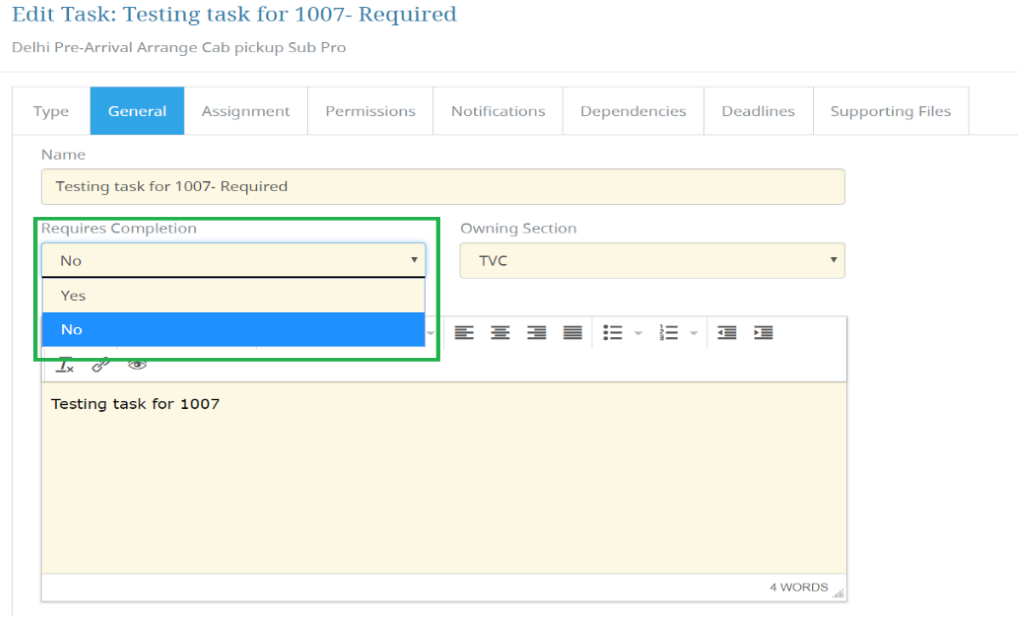 Figure-3
Once the "Requires Completion" value (Yes/No) is set and all other required values for tasks are set, the task can be saved and then you can publish the process. Please see the document below on how to publish a process. 
Why should I publish a process and How can I publish any Process? 
How to set the "Not Applicable" flag for Optional Tasks 
How to Complete an Option Task
A process (in Pre-Arrival, Check-in or Check-out) can be assigned to an Employee or a Service Provider for completion. Please see the document "How can I complete a Process that is assigned to me in a PCS?" on how to complete a process. 
The Assignment UI of a process list all of the task along with the Task assignment information. An employee or a SP can edit and complete the task. Please see Figure-4 below for a "Optional Task"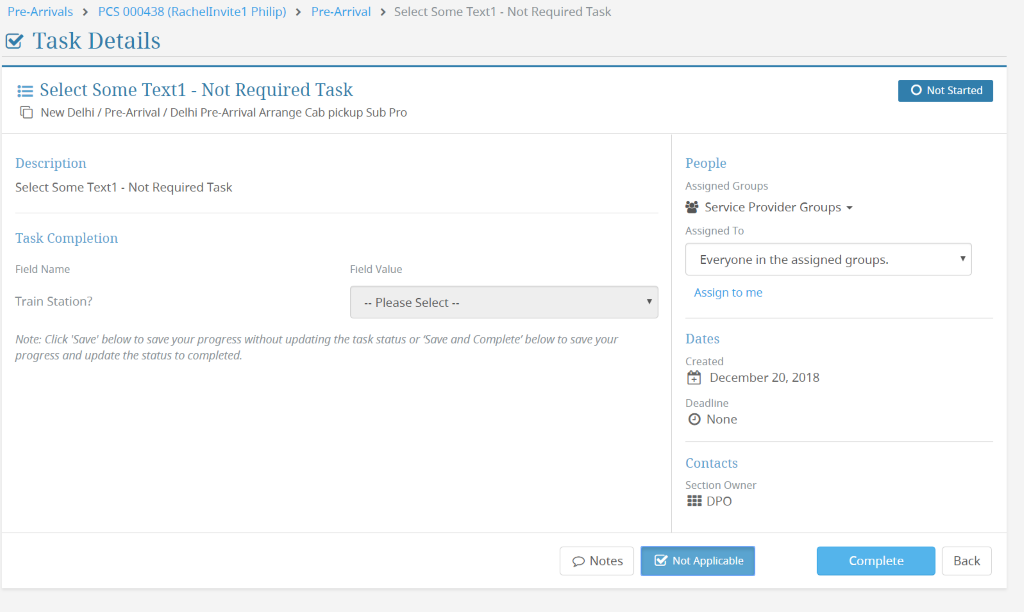 Figure-4
For Optional Tasks, the user can check the "Not Applicable" flag, and do not need to to enter any data needed to complete the task. Optional tasks will allow the user to complete a task without entering any data.