Topics Covered:
Target Users:
Employees
Service Providers
Organization Administrators
Required Permissions:
Introduction
ADS will allow authenticated users to create sub-processes for Pre-Arrival, Check-In and Check-Out process and set permission for those sub-processes. The permissions for the sub-process are inherited by the tasks or a sub-process permission, and can be overridden by the task.
Set Permission for Sub-process
Permissions can now be set for sub processes that will be inherited by all tasks inside of the sub process.  This simplifies setting the permissions for a group of like task items that will be completed by the same individuals.
Permissions can be set for any sub-process within the following 3 Processes 
Pre-Arrival Process

 

Check-In Process

 

Check-Out Process

 
Please see the document named "How will I create a sub-process for a Process?" on how to create a sub-process in ADS. 
The user can set the following 3 permissions for a sub-process 
None

 

View

 

View/Edit

 
An Authorized user can set Sub-Process permission when the sub-process is created or can edit it add permissions to it. Please see figure 1 below.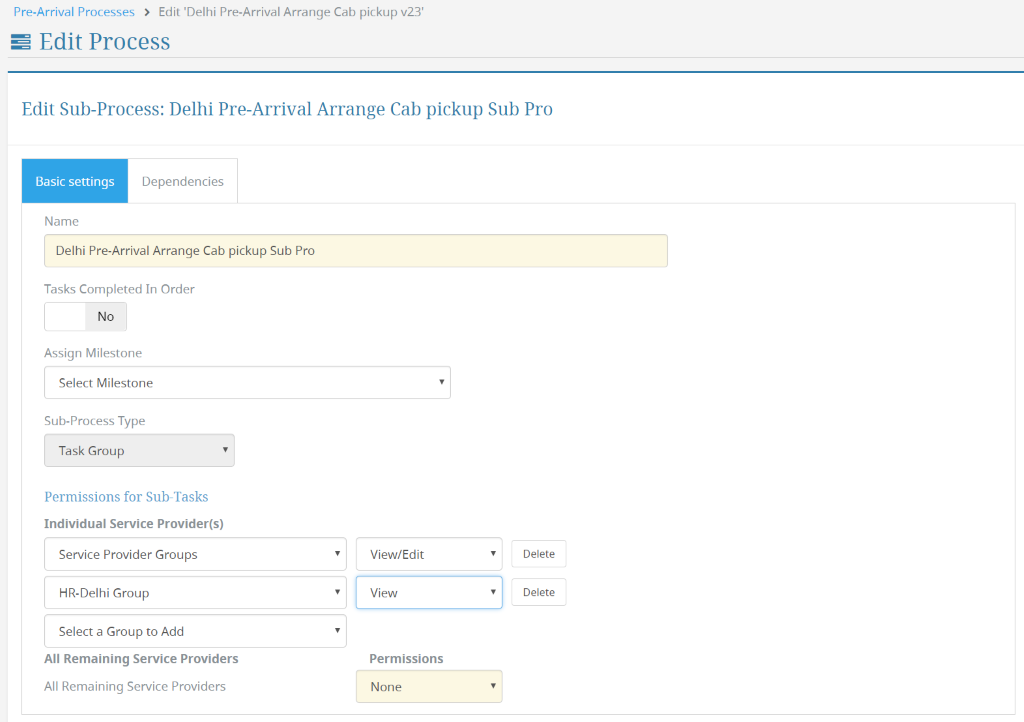 Figure-1
The drop down named "Individual Service Providers" will list all the permission groups created for the Post. An authorized user may select individual groups and set the permission for the group. The user may also select different groups and set different permission for the group.  
In the Example above, 
The Group "Service Provider Groups" has "View/Edit" permissions and

 

The group "HR-Delhi Group" has only "View"

 permission

 

All remaining groups for the Post do not have any permissions for this sub-process as it is set to "None"

 
Once the permission is set for a sub-process, all the tasks in the sub-process will inherit the permission of the sub-process.