Topics Covered
Report - Personnel Address
Target Users
Service Providers
Organization Administrators
Required Permissions
Manage Positions
Introduction
In the Reports Dashboard, the Personnel Addresses Report is under the Personnel Reports category in either the Reports Home or under the Personnel Reports category on the left hand menu. The Personnel Addresses Report contains a list of all employees along with their addresses for the selected address types. The report displays the employee's name and the details of each address. The report settings include choosing address types, organizations, employment types, and agencies. Please see Figure-1 below.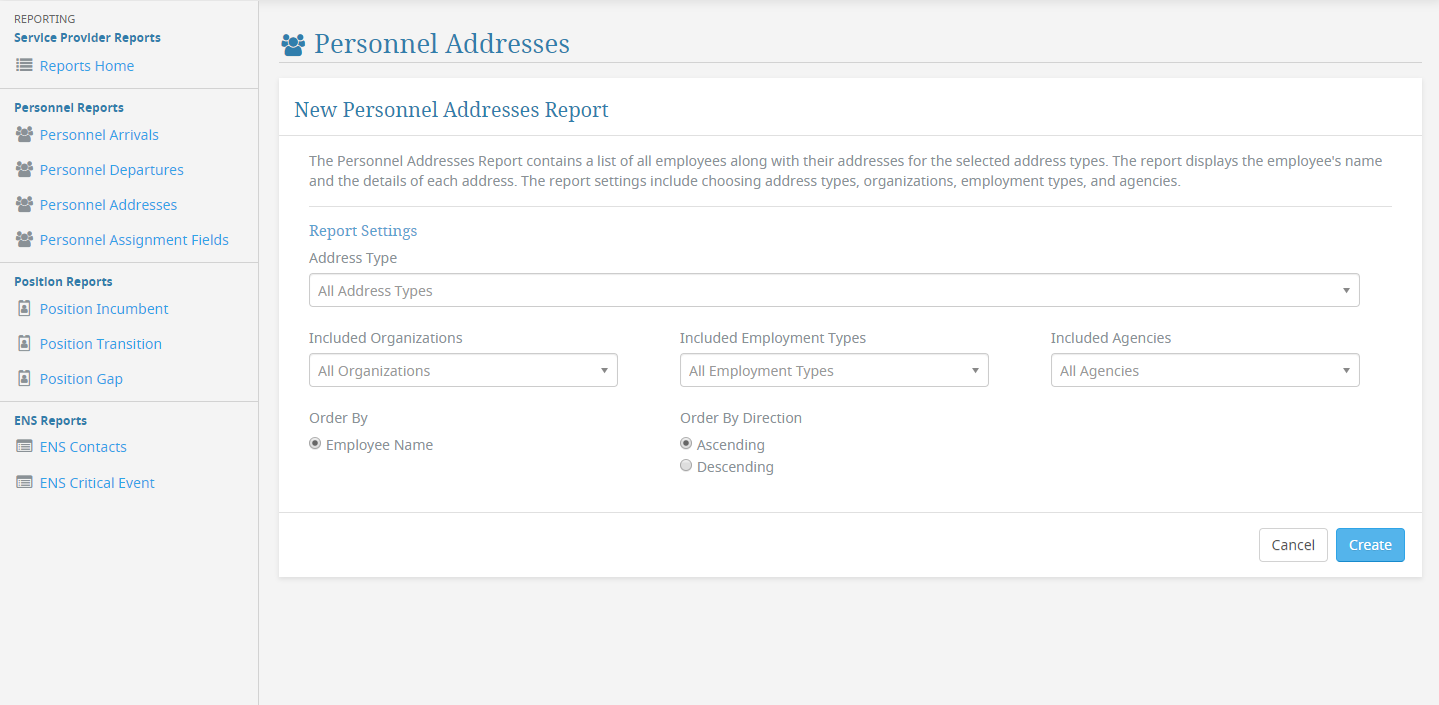 Figure-1
Create New Personnel Reports
Following the same format as the other reports that have been created, create a new report under Personnel Reports called Personnel Addresses. Using the same criteria for the "Employees" page in Service Provider, the report should return all employees and their address for a selected address type. The filters on the settings page includes Address Type, Organization, Employment Types, and Agencies. The order by options should be Employee Name and Ascending or Descending.
Address Types should include all the types available in the Employee Profile (Legal, Mailing, Home, Separation, Home Leave) and Assignment Details (Residence, DPO, Pouch Address personal, Pouch Address official, Forwarding). They should be listed as:
Employee Legal Address
Employee Mailing Address
Employee Home Address
Employee Separation Address
Employee Home Leave Address
Assignment Residence Address
Assignment DPO Address
Assignment Unclassified Pouch Address (Personal)


Select Create to Create the Report. Please see Figure-2 below for an example of a completed Report. Once you complete the report, you can select Print to print out the report, or select Edit Settings to go back to the New Personnel Address Report page.

Figure-2