Released: July 9th, 2020
Release Summary
Sponsor Changes
There have been many changes to Sponsors including the following:
Employees are now by default eligible to be sponsors and are no longer managed in the available sponsors list.
You can still manage a list of household members and/or external sponsors that are not able to login to the system but can be assigned as a sponsor to an assignment.
Employees that are assigned as a sponsor now have a page to view their Sponsored Assignments as seen below.
Tasks can now be assigned to the Office, Social, and/or Departure Sponsor. Once the sponsor is assigned, any task assigned to that type of sponsor will now be assigned to the selected individual. If this individual is not an Employee and therefore doesn't have an account to sign in (household members or external sponsors), then the task can be reassigned to another Employee, Service Provider, or another Sponsor. The new re-assign feature can be found within the details of a task.
Tasks assigned to you as a sponsor will also show up in the new Assigned Tasks page on the Service Provider Dashboard.
Sponsored Assignments - A list of the assignments you are currently a Sponsor for. This page only shows up in the left menu if you are assigned as a Sponsor to at least one assignment in the selected organization.

Sponsors - A list of the Sponsors that are currently assigned to an assignment within the organization that is selected. The list shows the number of assignments they are sponsoring and a link to view the list of assignments they are sponsoring.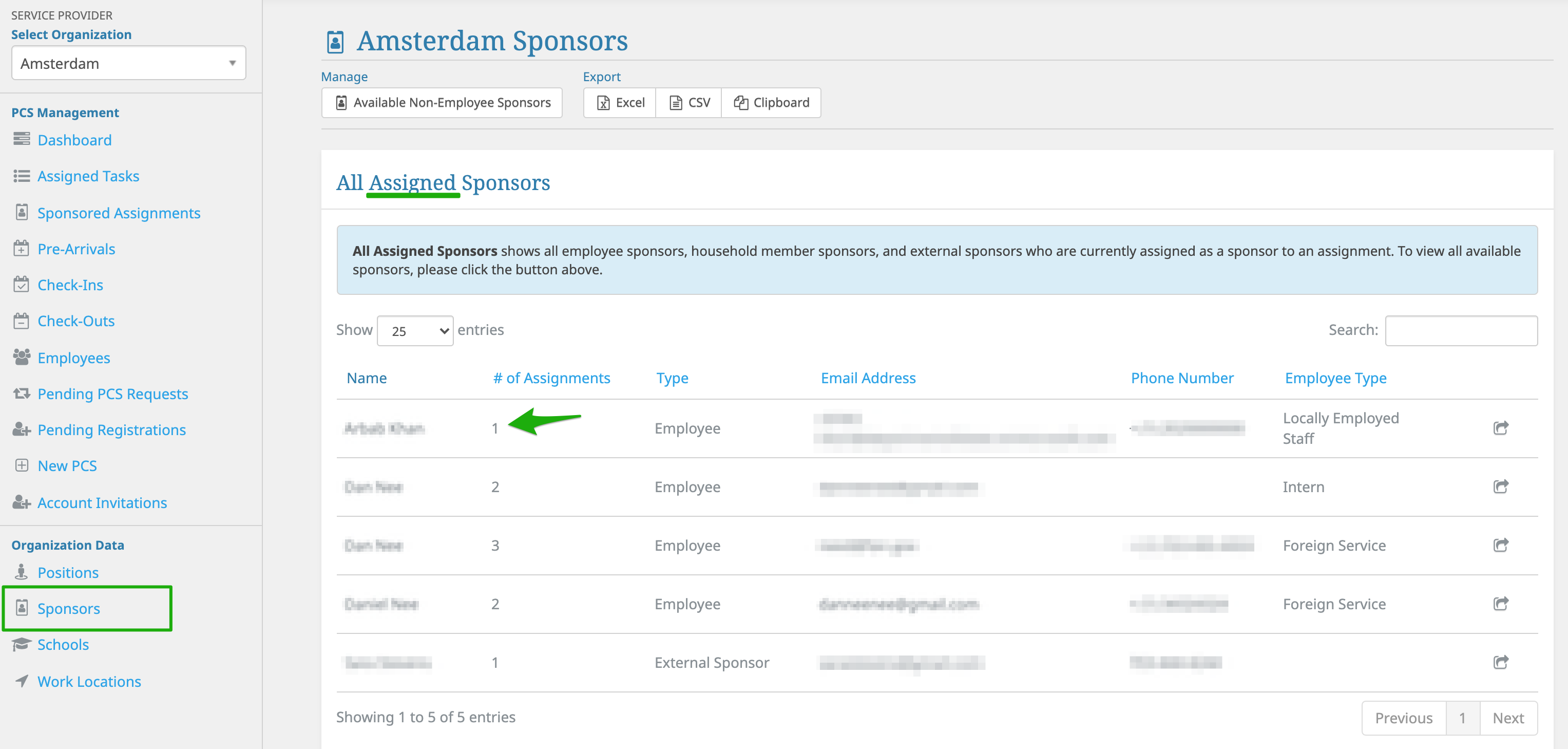 Available Non-Employee Sponsors - Previously there was a list of all available sponsors and you could add employees to this list. Employees will no longer be shown in this list because all employees are now available to be selected as a sponsor by default. Now this page shows just the Household Members and External Sponsors that have been added for this organization. You can add existing household members as a sponsor or create new external sponsors to add to the list of available sponsors.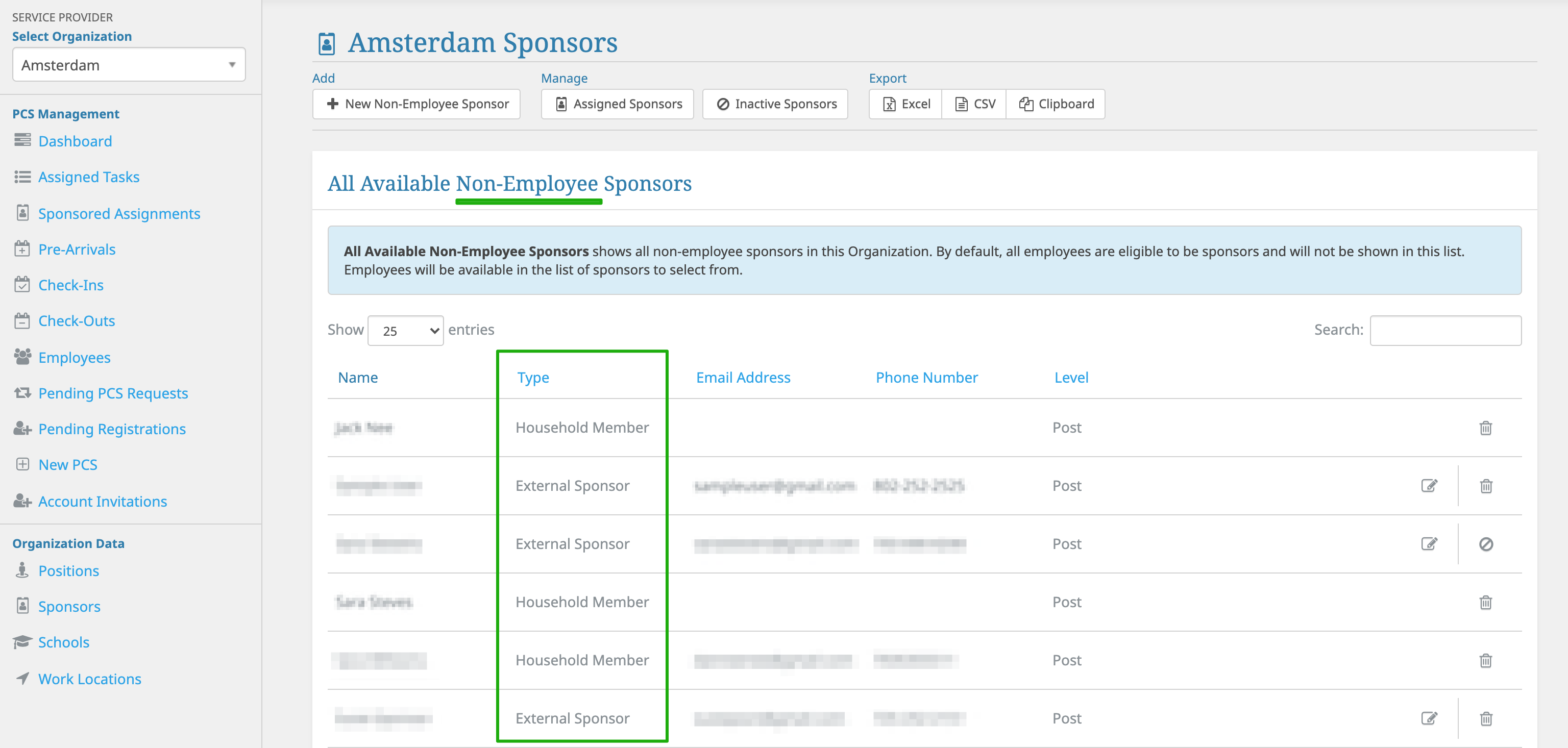 Assigned Tasks Page
A new Service Provider Dashboard page will display all the tasks currently assigned to you as a Service Provider or as a Sponsor that are ready to be worked on. The page defaults to showing a full list of tasks ungrouped, but the tasks can also be grouped by Assignment or by like Task. Tasks can also now be reassigned after they've been created to the Employee, other Service Providers, or Sponsors.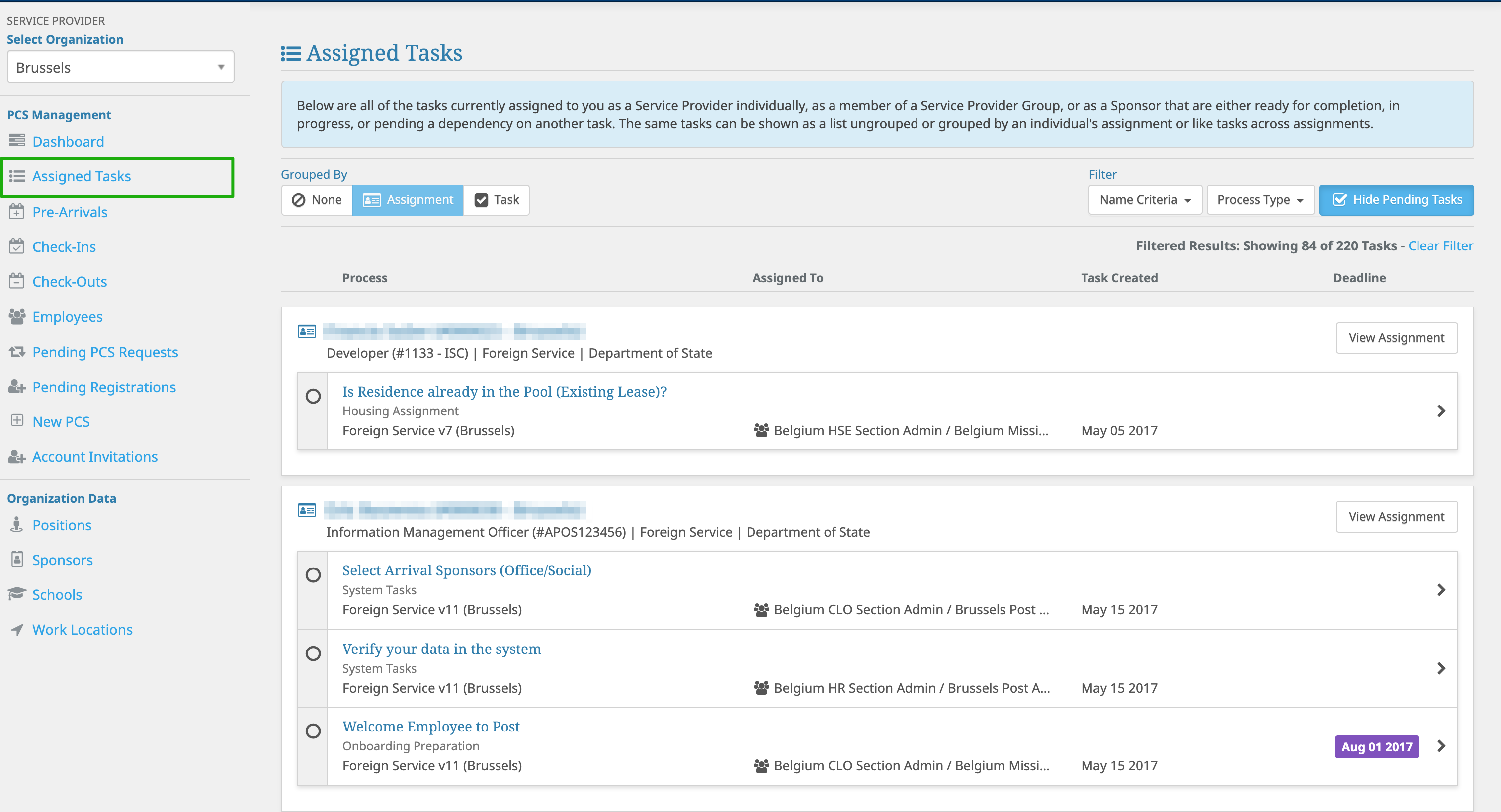 Assigned Processes Report
The Assigned Processes Report is a new report on all the processes that are currently assigned out to the Pre-Arrival, Check-In, or Check-Out of an Employee's process. The report displays the progress of those assignments and information about which Post process they were created from. There's a new permission for viewing process reports that is required to see this report.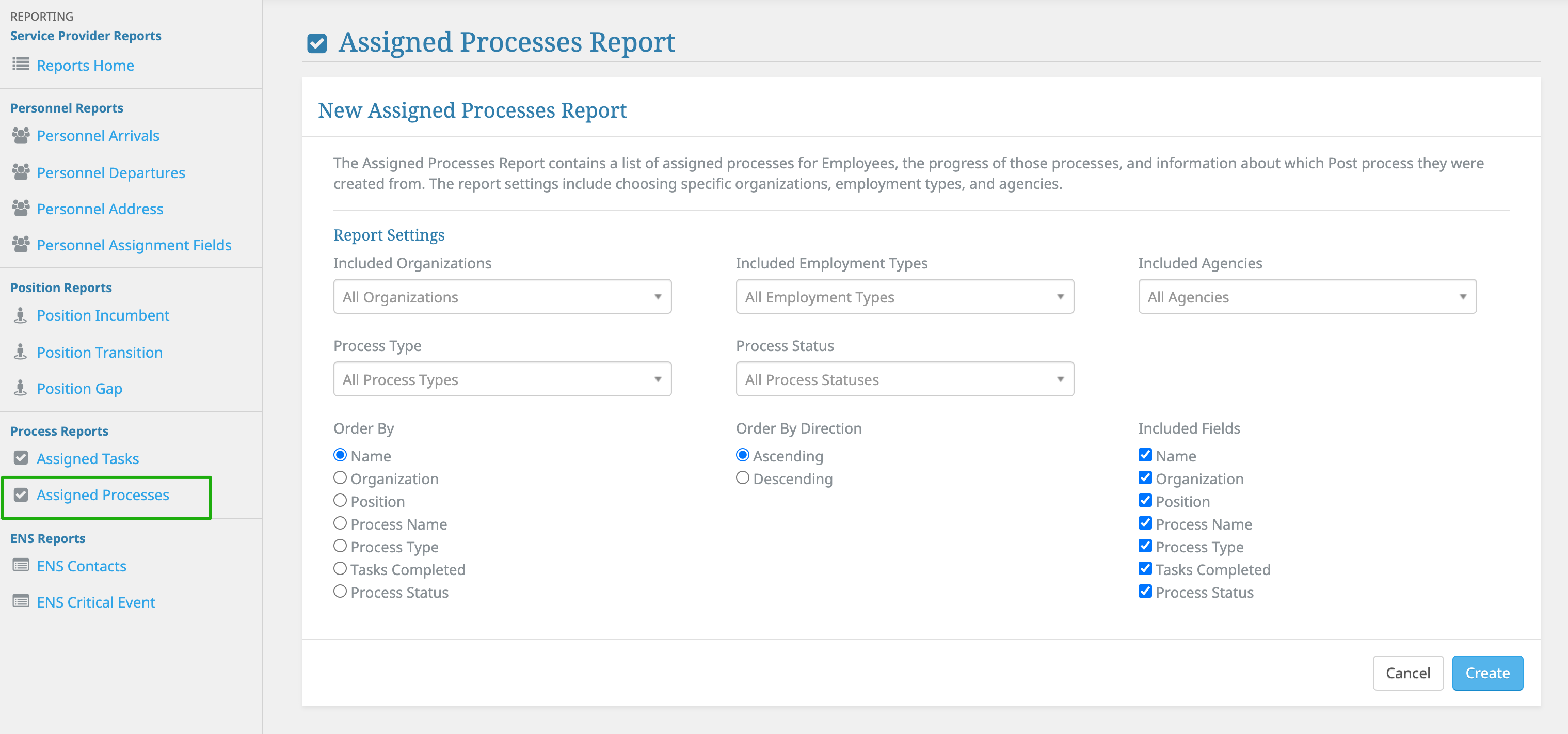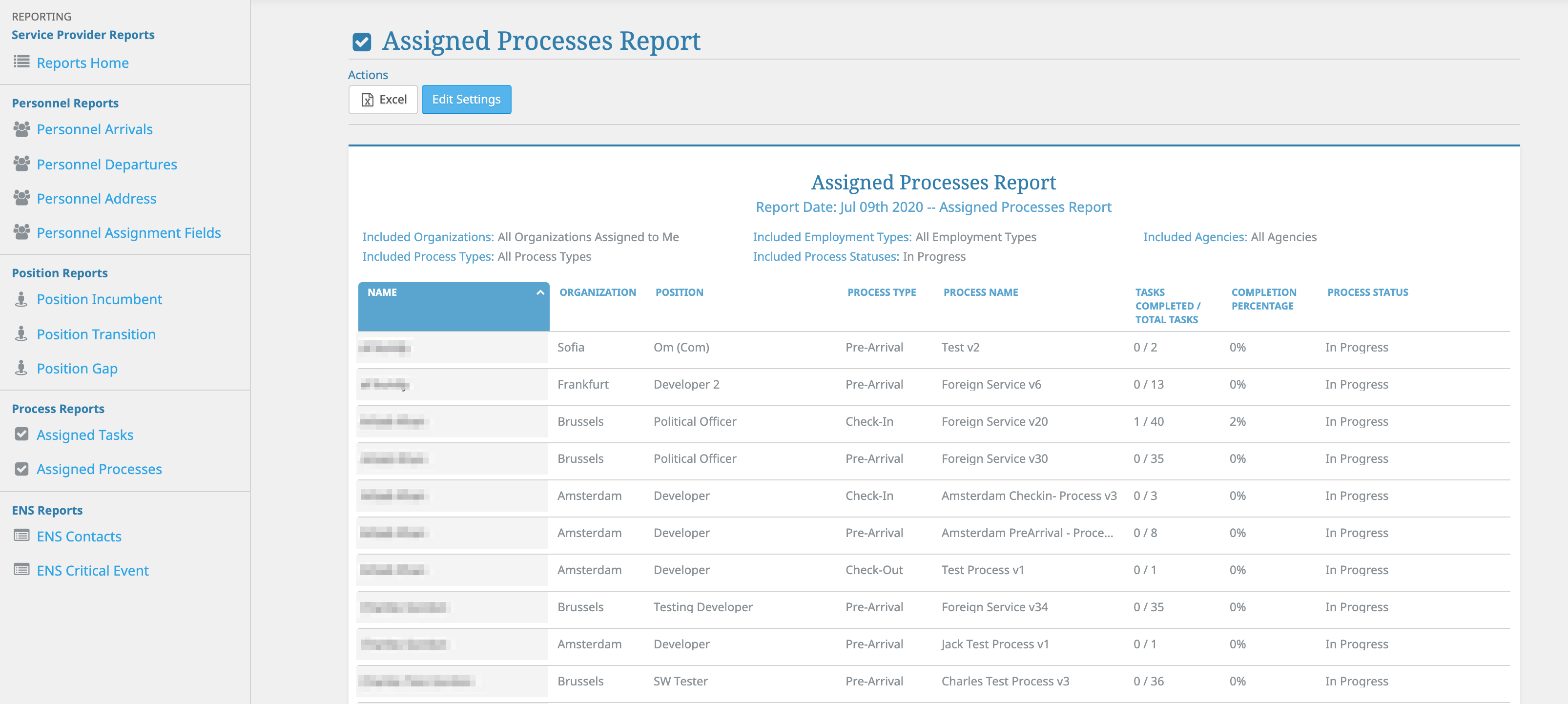 Assigned Tasks Report
The Assigned Tasks Report is a new report on all the tasks that are assigned out to as part of Employee processes displaying information, such as task status, type, assigned to, and deadline. This report can be used for identifying incomplete tasks and who needs to take action on them. There's a new permission for viewing process reports that is required to see this report.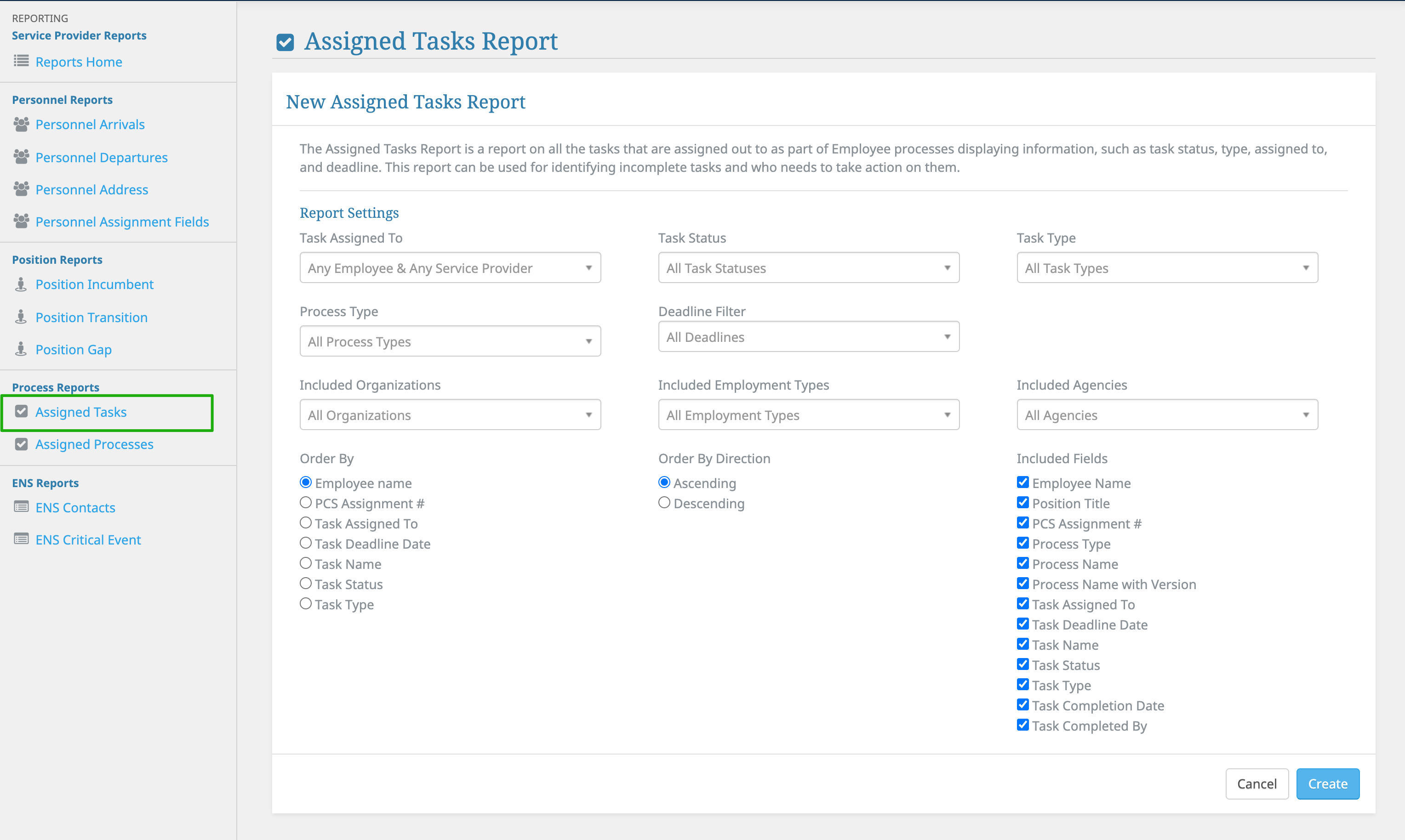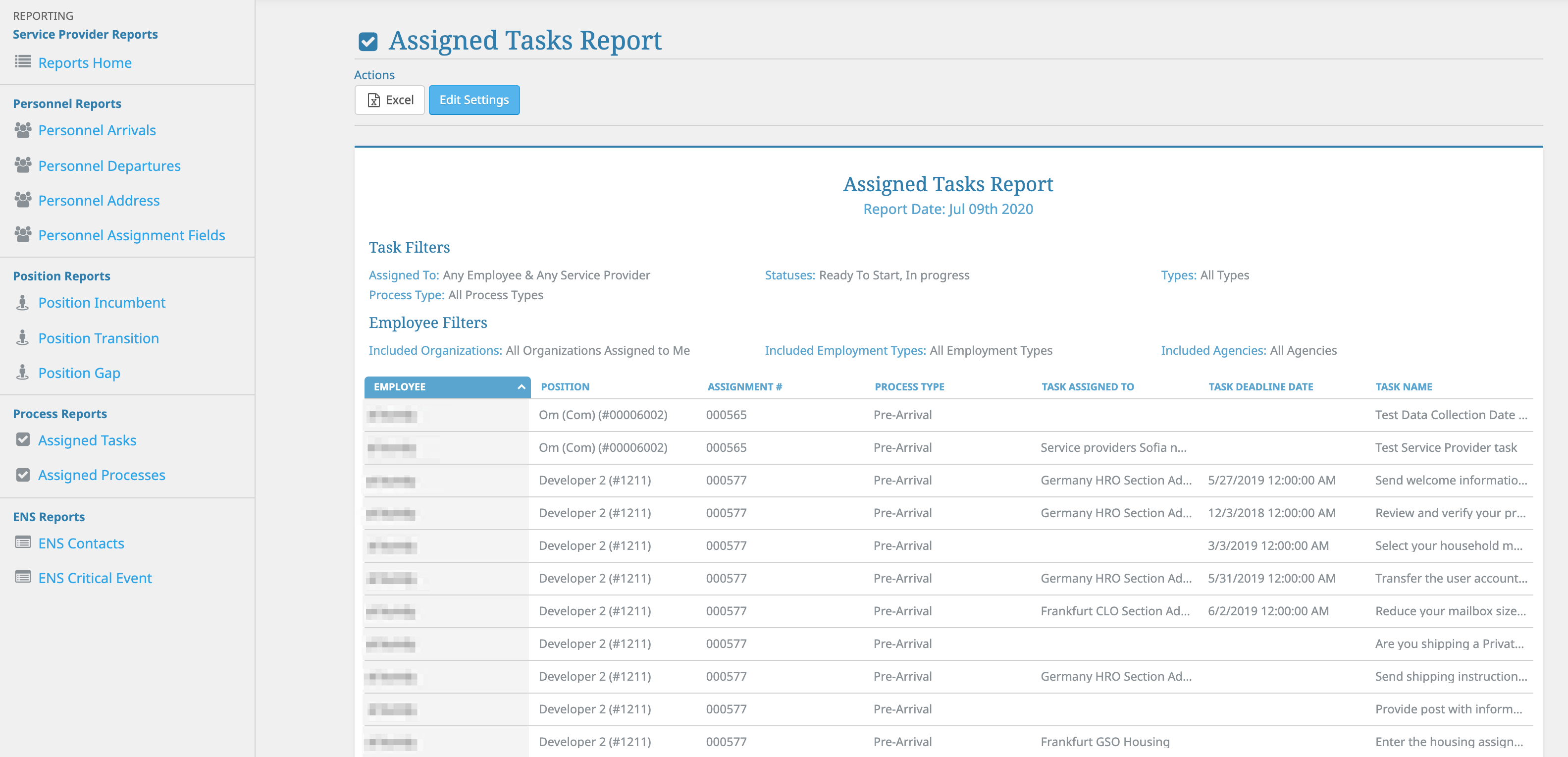 Exporting Reports to Excel
All of the new and existing repots should now be exportable to Excel.
Closed Processes & Assignments
New pages have been created for displaying closed processes and assignments. Completed processes will no longer be displayed with ongoing Pre-Arrivals, Check-Ins, and Check-Outs and there's now a link to the completed processes from those pages. Completed assignments are accessible from the Employees page as Departed Employees.
Completed Processes


Completed Assignments / Departed Employees


Improved Form Import/Export
The import/export functionality for forms has been improved to display what assignment fields and data sources are being used in the Form and importing these elements along with the Form if necessary.
Feedback from Deployment Workshops
A lot of feedback has been provided during the recent deployment workshops. This release contains many minor changes to the user interface or functionality as a result of all of your feedback. Thank you for all the suggestions and requests, and please continue to let the ADS team know you'd like to see.
Additional Bug Fixes
Release v1.23.0 includes a number of bug fixes reported by service providers. Additional communication to service providers will occur in response to any open Zendesk help tickets.