Pre-requisites: N/A
Topics Covered
Initiating the AWP
Filling out the AWP
Confirming the AWP
Target Users
Rating Supervisor
The Annual Work Plan (AWP)
As a Rating Supervisor, you will use GoMBC to create an Annual Work Plan (AWP) for each of your employees. Follow the instructions below or view this video to create and establish an AWP.
From the main menu, select My Employees to see a list of everyone you support, or search for an employee by name.
This shows each employee's position, grade, pool, and section, along with icons for different actions you can take. The one you want is Initiate Annual Work Plan.

Initiating the AWP
There are a few details to fill out before creating an AWP.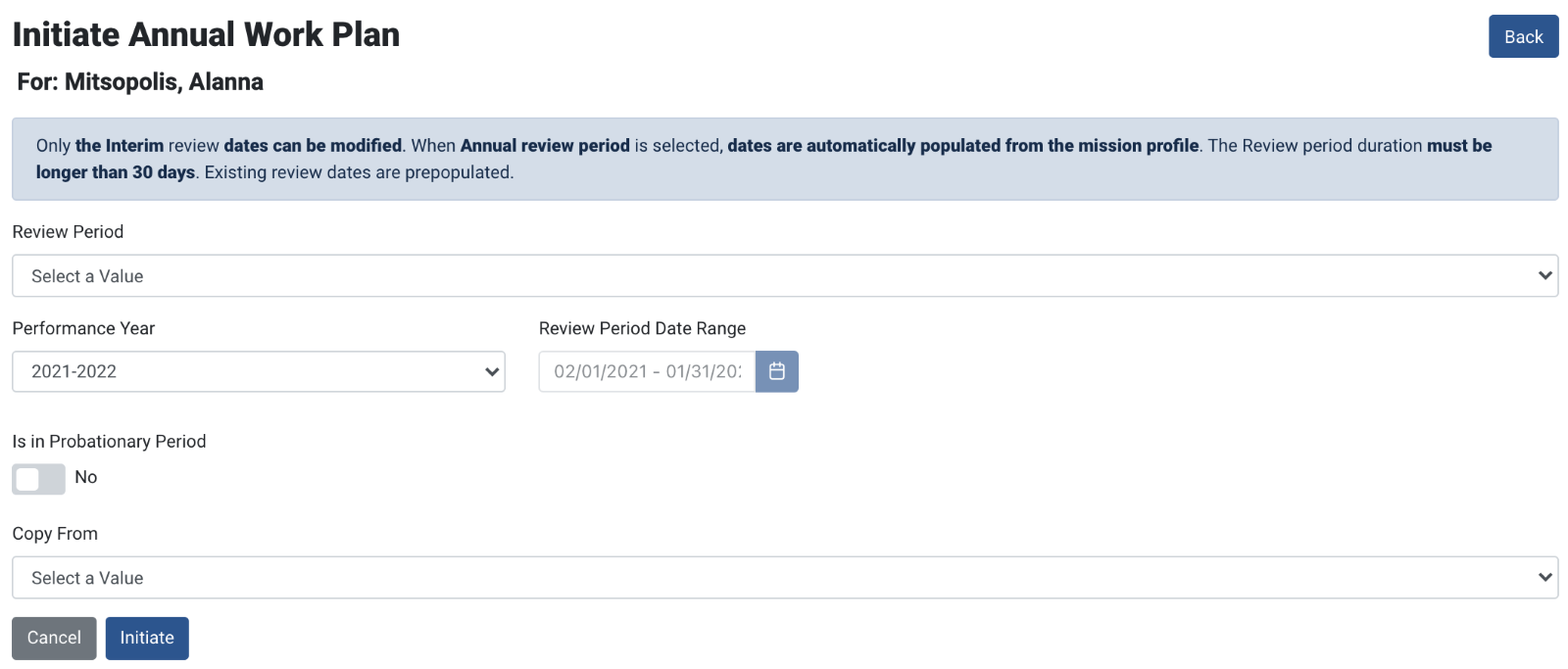 Review Period
This refers to how long you will supervise the employee. If you're supporting them throughout the entire performance year, pick Annual. If you're planning to support them through part of the year (for example, if you're due to depart post), pick Interim.

Performance Year
Choose between the current performance year or if needed, the previous.
Review Period Date Range
If you chose an Annual review period, the correct date range is filled out automatically based on the cycle set by your mission. For Interim, fill out the dates covering your time as the employee's supervisor.
Probationary Period
This refers to the employee's probation. If they are a new hire, you will likely set this to Yes.
Copy From (Existing Employee Info)
If this AWP is going to be similar to a previous one (either from the same employee, or someone else you support as a Rating Supervisor) then save yourself some time and copy from a previous record.
This copies over all the Performance Criteria from an existing AWP to get you started. You can edit these later.
Once that's all done, select Initiate to create the AWP template.
Filling out the AWP
You've now created the Annual Work Plan, but it's still mostly empty. In the next step you will add some employee details and set criteria for the new performance period.
You should now be looking at the AWP template for your chosen employee. Their name (and yours) is at the top of the form, along with the names of other supervisors who'll later approve the scored EPR.
The Review Period and Date Range carry over from the previous step.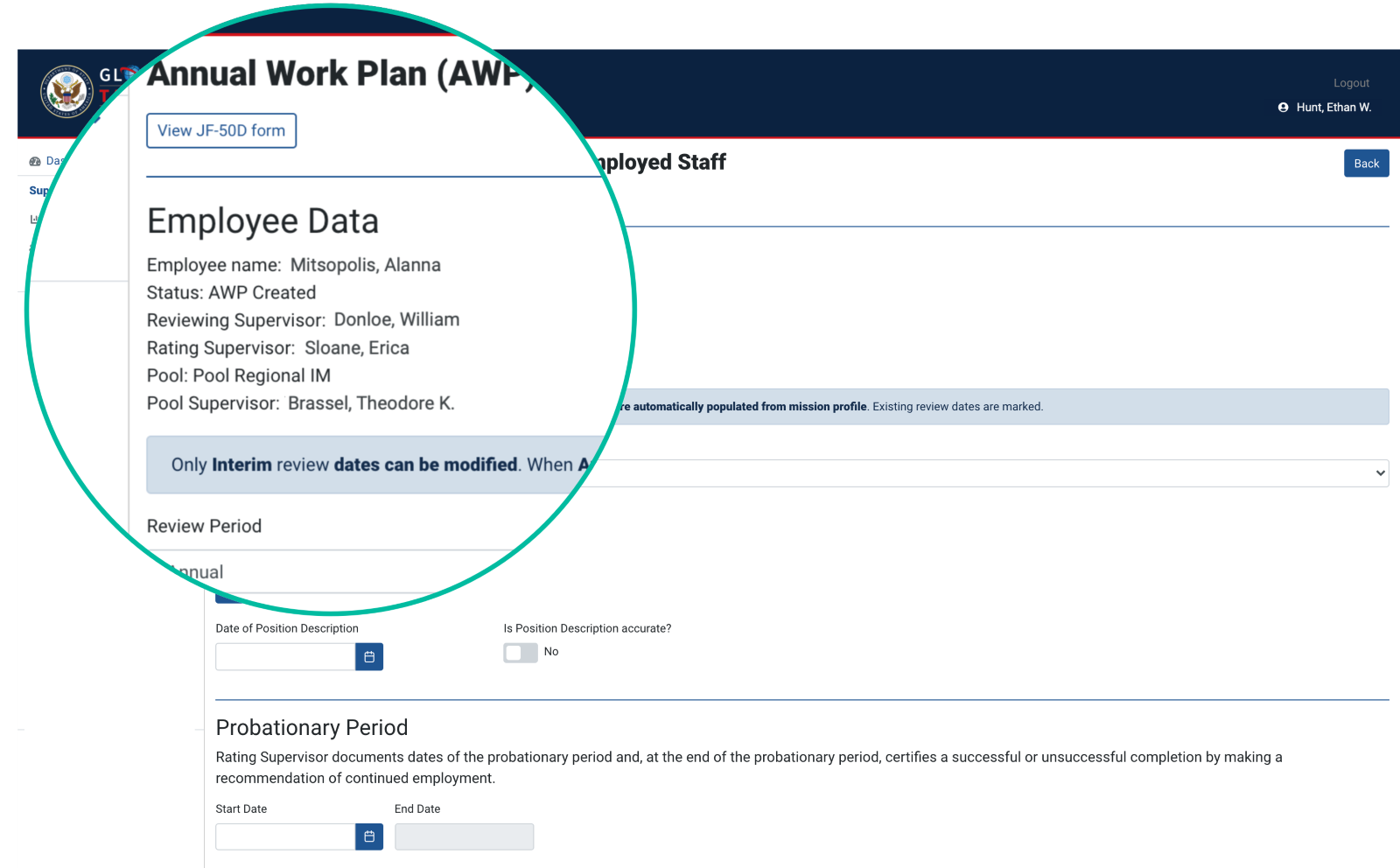 Confirming Job Details
If the employee is on probation, add the start date of their probationary period and GoMBC will work out the correct end date. As a Rating Supervisor you will later be asked to certify whether the probationary period has been completed successfully. If you are unsure, speak to your HR office.
Details of the Annual Work Plan
Now let's set up the Performance Criteria that you and your employee have discussed and agreed on. Remember, each can be labelled as either a Continuing Responsibility, Specific Objective, or Competency. Don't worry about Universal Job Elements right now—they get added automatically.

Select Add Performance Criterion to add your first goal to the AWP. Select a category, then give the objective an appropriate name and a description.
Give the performance criterion a percentage weight (5—20%) based on its overall importance during the performance period.
As soon as a performance criterion has a name, description, and percentage it gets saved automatically, along with any edits you make.
Continue adding more criteria in the same way by selecting Add Performance Criterion and picking a category.
As you add performance criterion the Total Percentage weight increases. This total includes percentages for Universal Job Elements.

Universal Job Elements
These criteria are set automatically for each employee. As a Rating Supervisor, you will decide how each should be weighted toward overall performance.
Speak to HR for more information on how best to weight these performance criteria.
Development Activities
Support your employee's performance and professional growth by adding activities to their Development Plan.
Select Add Development Activity and then enter a title for the development area, a description of the recommended activity, and dates of when the activity should happen.


Like before, each activity is saved automatically along with any edits you make. Use Add Development Activity again to complete as many activities as you need.
Confirming the AWP
Now that you've created an Annual Work Plan and discussed it with your employee, it's time to make it official.
As the Rating Supervisor, go ahead and Endorse the plan. Selecting this will notify your employee that the AWP is ready for their acknowledgement in GoMBC.

The employee will now Acknowledge their agreement in GoMBC, and the rating cycle is officially underway.