Pre-requisites: User must be registered to ATLAS Workflows.
Topics Covered
Navigate to Delegated Users
How to Add a Delegated User
Target Users
Employees
Service Providers
Organization Administrators
Required Permissions
Introduction
Delegated users are users that have access to the employee's ATLAS Workflows account. He or she may view and manage the employee's profile, tasks and workflows on his behalf. These users may be another employee or a household member. Note that only users that have existing OKTA account have access to ATLAS Workflows. For household members to have access, please contact the Post Administrator.
Navigate to Delegated Users
Click on the Employee's name on the upper right side of the page and click on the Delegated Users link.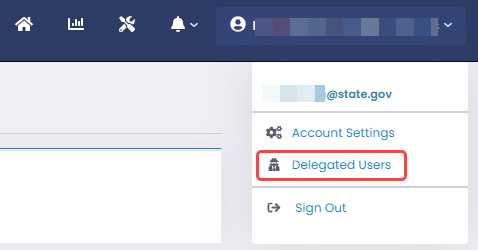 Related Articles:
Related Videos:
ATLAS Workflows Delegate Users