Topics Covered
Introduction
Step 1: Close Pending EPRs
Step 2: Transfer or End Supervision
Step 3: Transfer USDH to the New Post
Target Users
HR Admins (Mission/Post Administrator/Manager)
Introduction
When a USDH is transferring to a new post, the losing post should take the following actions as part of the check-out process. If the gaining post has not received the new employee, they should reach out to the losing post or contact ADG-GoMBC-Support@state.gov.
Step 1: Close Pending EPRs
Finalize any pending EPRs that are associated with the USDH. You will not be able to sign in on behalf of the USDH once the transfer is completed and this is often needed to close out EPRs as people are departing.
Step 2: Transfer or End Supervision
Transfer or end supervision: If the new supervisor has arrived at post, transfer the employees that the departing USDH supervises to the new supervisor. If the new supervisor has not arrived at post, either end supervision of all employees or transfer the employees to a temporary supervisor. Both of these actions can be done from Transfer Employees in the Organization Admin menu, as shown below. Please note, that you will only be able to transfer from employees that are currently in your post.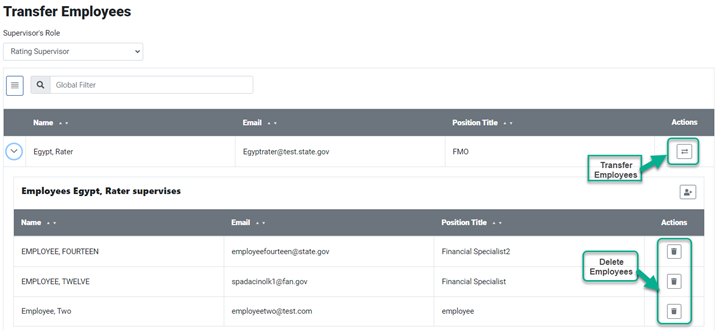 Step 3: Transfer USDH to the New Post
Finally, transfer post - once the USDH is clear of pending EPR actions and supervision responsibility in your post, you can transfer the USDH. This is done by changing the post in the USDH employee profile. Select Manage Employees from the Organization Admin menu, then update the Post of the USDH and Save .