Topics Covered
Copy/Paste from Excel
Import Into who's where
There are 2 ways to import data into Who's Where, in this article we will be covering how to import using the Copy and Paste feature.
Important Links:
Also see the article: Import into Who's Where: Excel File from One Drive
Copy / Paste from Excel
1.) From the excel template, copy the data you entered but exclude the header.
Please ensure you select all data from all columns. See example of highlighted data from screenshot below)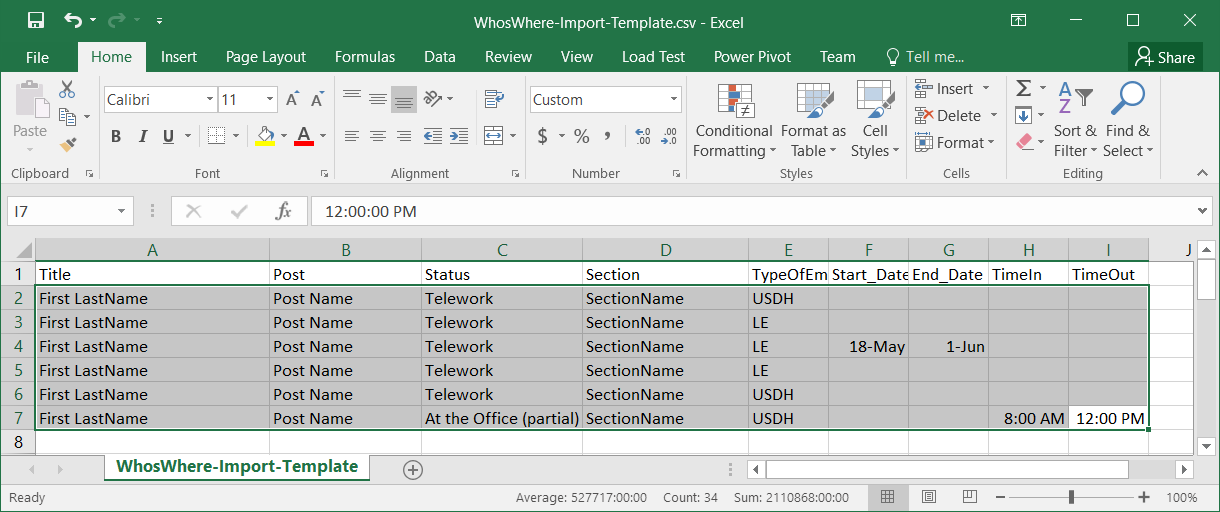 Then copy the data.

2.) Once copied, go to the Who's Where application
3.) In Who's Where, click on the "Import Bulk Status Data"
4.) On the Import Interface, under Step 1: Select Data Source, ensure you have the tab titled "Paste from Excel (.xlsx)" selected

5.) Paste the copied data from Excel into the "Paste Data" text field

6.) Go to Step 2: Convert data to Status Records and click the "Convert Button"

7.) After the conversion is complete, go to Step 3: Review Records for Correctness and review all the converted records to ensure they match the header types and the data is correctly converted.

8.) Once you have verified all the data is converted properly, you can upload the converted records to Who's Where

After you click the "Upload" button, you will see a text that lets you know the progress of your import

When the upload is complete, a banner will be displayed

---
Congratulations, you have imported records into Who's Where using the Copy/Paste method from Excel!