Topics Covered
Filtering the Directory
Target Users
Users
Organization Administrators
Required Permissions
n/a

Filtering the Directory
ATLAS Directory lists all contacts at a Mission or Post along with their contact information. There are multiple ways to view this information through the filter options available.
On the ATLAS Directory homepage, when viewing a Directory for a Post or Mission, a user can switch to the List View by selecting the List icon button in the top left of the page.

You can also show the list that is most important to you by changing the Sort Order to Favorites First, Alphabetical, or By Section. You can add to Favorites by clicking the Star icon next to the Profile photo. If you see a yellow star icon, this means that the Contact is already added as Favorites.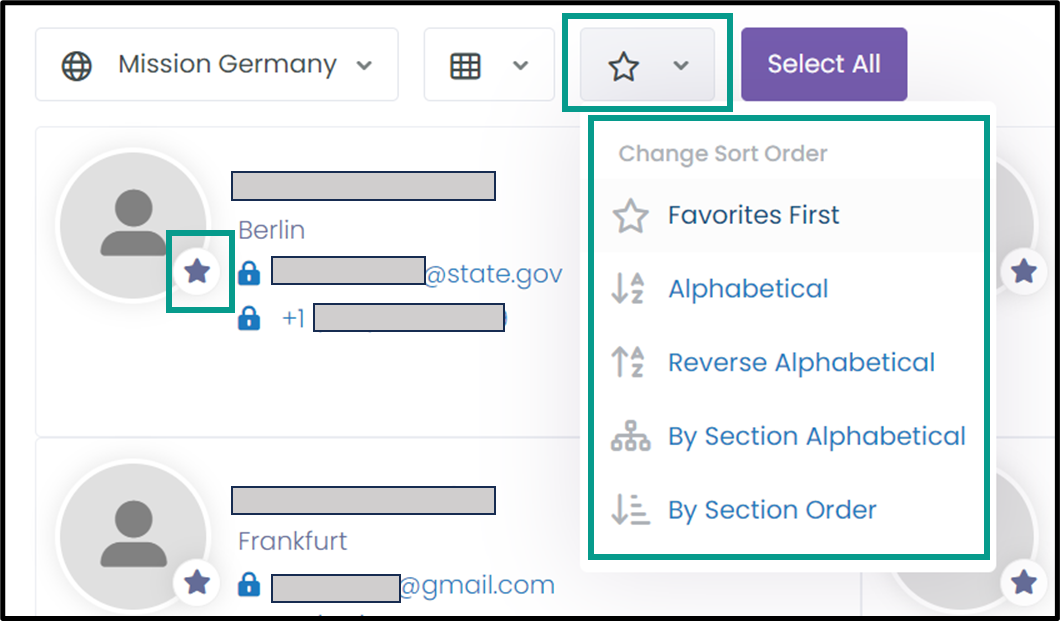 To see the number of the filtered contact results, go back to the Directory page and scroll down to the bottom. Here, you can select Show More, Show All, or Show First 15 Elements.
For additional help, please contact ISC at Post or ADG Support by selecting the 'Submit a request' button at the top of the page or by emailing 

adg-support@state.gov.
Visit the Global Application Portal (GAP) for the latest news and information on all the ADG's applications.