Topics Covered
Viewing the Holiday Calendar
Target Users
Service Providers
Organization Administrators
Required Permissions
n/a

Introduction
The Holiday Calendar allows users to view the various Holidays at Post or within the Mission throughout the year. All users can view the Holiday calendar, however to edit the Holidays recognized at Post, the user must have administrative permissions.
Viewing Post's Holiday Calendar
On the ATLAS Directory homepage, go to the Organization drop-down menu and select Holiday Calendar. (Note: The holidays recognized at Post have been set by an Administrator.)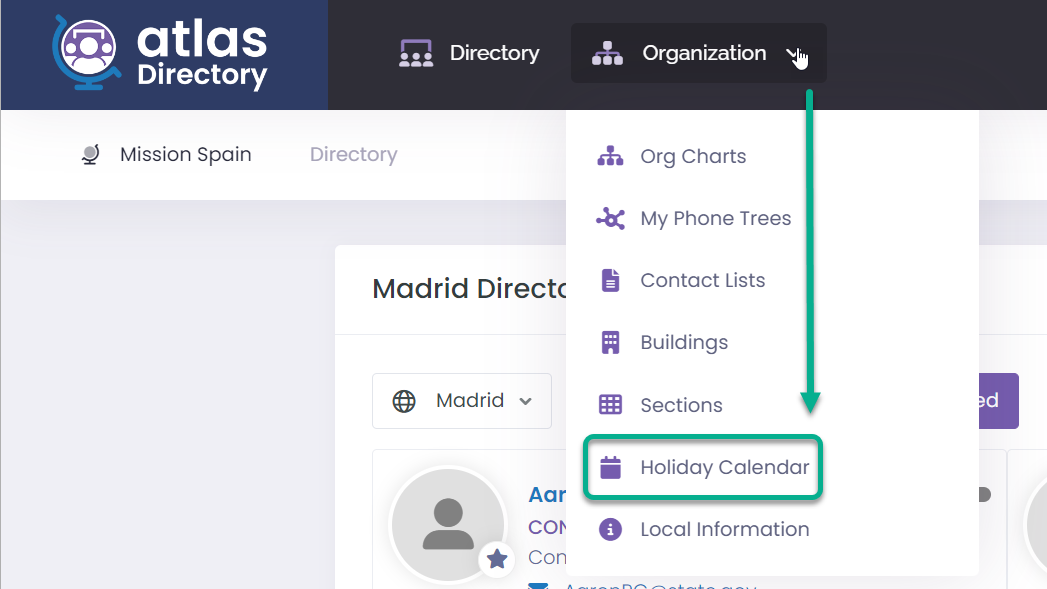 You can view these holidays in the color-coded, calendar view, as well as the option in the top-right corner called Holiday List. In the Holiday List view, a user can export by Excel, CSV, adjust the columns listed in the list, and also search through the list with the search bar.
For additional help, please contact ISC at Post or ADG Support by selecting the 'Submit a request' button at the top of the page or by emailing 

adg-support@state.gov.
Visit the Global Application Portal (GAP) for the latest news and information on all the ADG's applications.