Topics Covered
Online Auction for Post
Target Users
All Users
Required Permissions
n/a
Requesting Online Auction
To request Online Auction and to begin deployment of this application at Post, please visit our product catalog on the Global Application Portal (GAP). The GAP is accessible from anywhere via OKTA verification.
Using Google Chrome, click on https://adggap.state.gov/ to access the GAP landing page.
Choose PRODUCT CATALOG from the top menu and navigate to Online Auction. Select MORE DETAILS and you will be taken to the Online Auction page. On the right side, under Deployments, click the REQUEST OA FOR YOUR POST button and the registration page will open.
After completing the registration, a member of the ADG Team will approve your request and schedule deployment for your Post. We hold a deployment 'Workshop' meeting once a month; a member of the ADG Team will reach out with more details closer to the deployment Workshop date.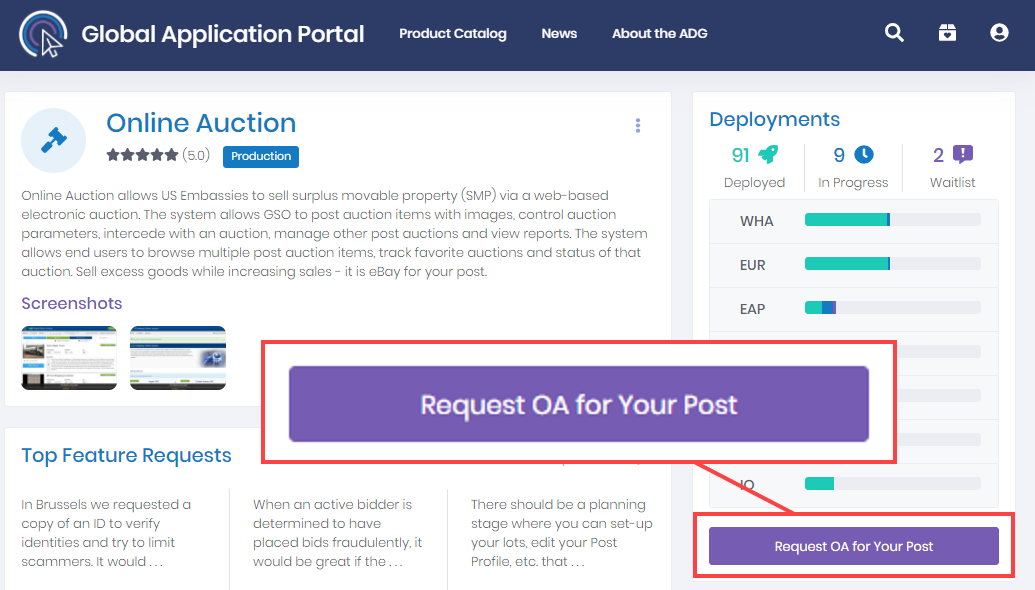 For additional help, please contact ISC at Post or ADG Support by selecting the 'Submit a request' button at the top of the page or by emailing 

adg-support@state.gov.
Visit the Global Application Portal (GAP) for the latest news and information on all the ADG's applications.