Pre-requisites: n/a
Topics Covered
Emails as Safe Senders

Are your ATLAS email notifications going to junk mail? The ADG is here to help!
The ADG is working with the Department to correct this problem for all Firma users. In the meantime, users can mark the ATLAS Firma sending email address as a Safe Sender. This will ensure Firma email notifications appear in your Inbox.

From the Outlook Desktop (GoVirtual and OpenNet)
Locate an email that was misdirected to Junk (search for noreply@firma.state.gov). Right click the email, go to the 'Junk' menu, then select 'Not Junk.'


A pop-up window will appear. Make sure the box is checked to 'Always trust email from

noreply@firma.state.gov

' and select OK.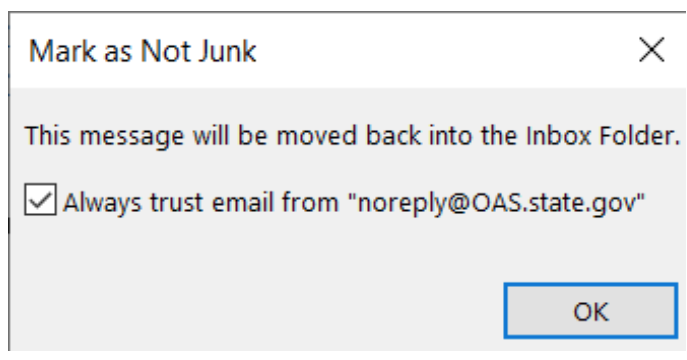 From GoBrowser
Find one of the emails that was misdirected to Junk.  Click the 'It's not junk' link.



On the pop up dialog box, click 'OK' to teach the Spam filter that emails from this sender are not Junk.