Topics Covered
Configuring the Housing Questionnaire
Target Users
Housing Admin

Required Permissions
Residence Manager
Local Admin

Housing Questionnaire Configuration
The Housing Questionnaire Configuration is a critical step for the Housing Assignment.
Customs Fields are intended for use in the residence profile and not for the employee.
The Housing Questionnaire is used to calculate the best match for the incoming officer's housing assignment therefore the Questionnaire is focused on Housing specific answers and not on the general assignment.
Local Admin and Residence Manager permissions are set in the system to configure the Housing Questionnaire.
Customs Fields and Preferences:
will help you to request specific answers from your Incoming Occupants to support the ATLAS Housing calculation of the best 'housing assignment' match for your incoming arrivals,
are the first step when starting to configure the Housing Questionnaire,
are a set of questions related to the Housing Assignment and not intended for more general employee information.
In order to create and configure your Customs Fields, please follow the steps below:
From the Configuration menu, select Customs Fields
Click on "New" and select the desired option from the drop-down menu listing three (3) custom field options: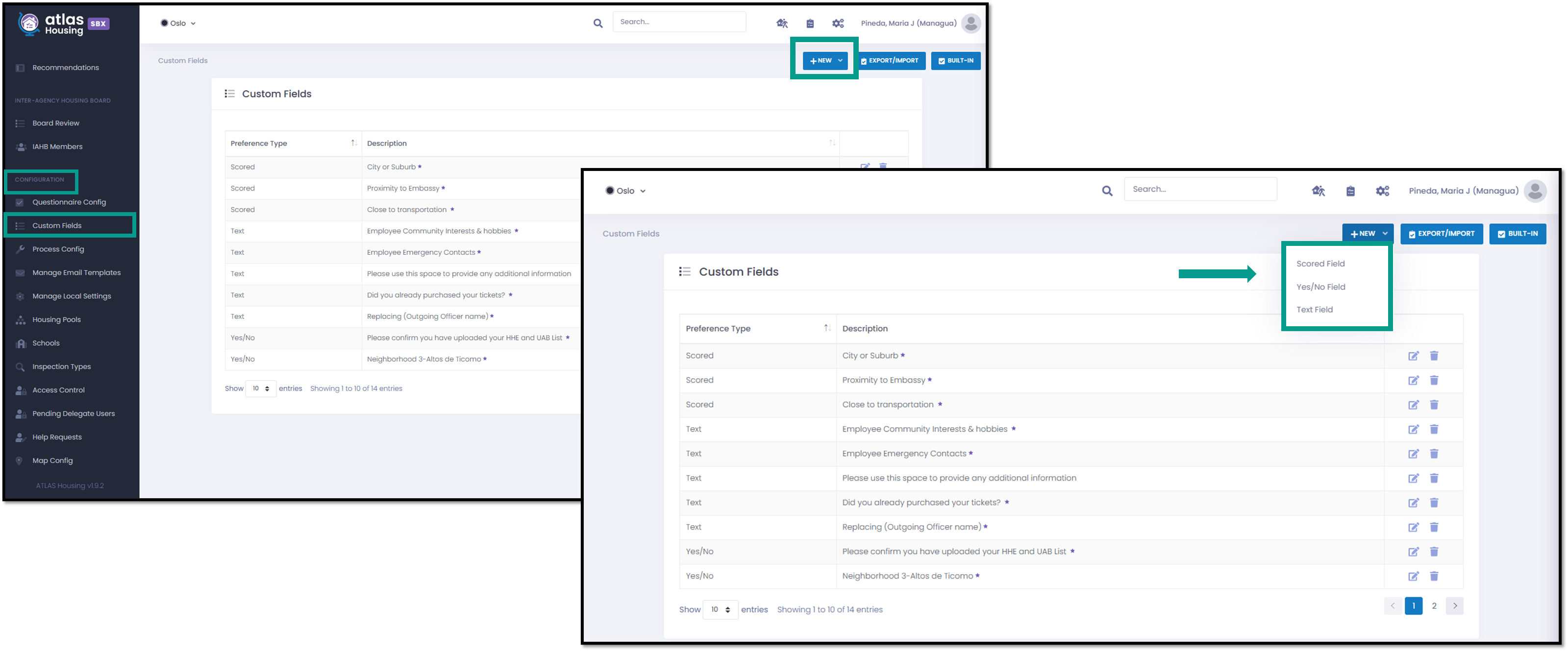 Scored Field: Will allow to score the custom field or preference (1-5).
Text Field: Will give the ability to provide a description and request a response.
Yes/ No Field: Will give the opportunity to answer specific questions with Yes or No.
Scored Field/ Preference

Text Field/ Preference

Yes/ No Field Preference

Displaying Options
Display on the edit page allows you to edit it on the residence page.
Display on the details page makes it appear in the details block on the residence page

Display in the resident porta

l will display it to the employee assigned to the residence.
How to enable Customs Fields?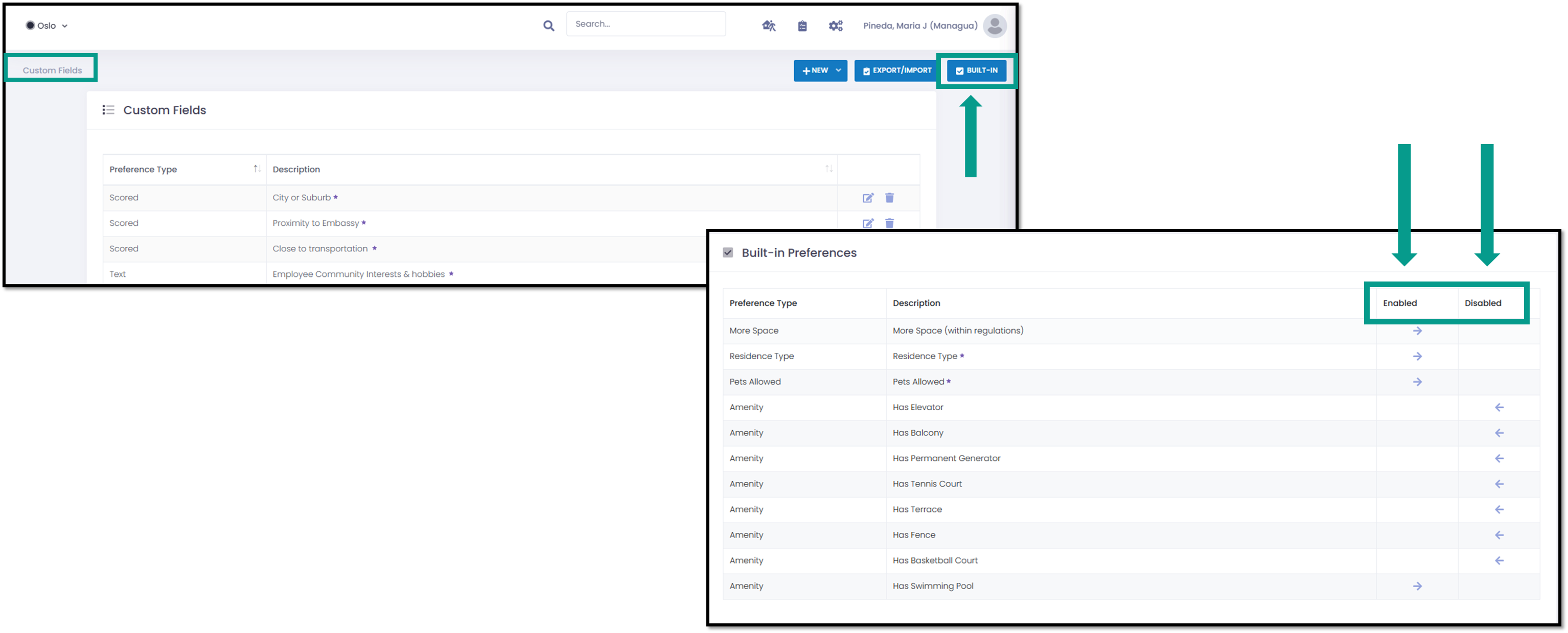 Note:
The Customs Fields used in published Housing Questionnaires cannot be deleted but are editable.
Once you are happy with your Customs Fields / Preferences and you have enabled the ones that you want to use, you are ready to continue with the Schools Profile Configuration.
Schools Profile
The Schools Profile has been added to the Housing Questionnaire configuration to help our Incoming Officers select the EFM Child's school of their choice.
To add schools to the list, go to the Configuration Menu, select Schools, and add as many school profiles as you want.

The Schools option will be available in the Housing Questionnaire when the incoming officer
lists EFM Children, he/she should add this information in the Household Members section.
Now that we are set with Customs Fields and Schools Profile, we may continue with the Housing Questionnaire Configuration
For more details about Housing Questionnaire configuration, please click here
Related Video: Configuring Housing Questionnaires
For additional help, please contact ISC at Post or ADG Support by selecting the 'Submit a request' button at the top of the page or by emailing 

adg-support@state.gov.
Visit the Global Application Portal (GAP) for the latest news and information on all the ADG's applications.