Topics Covered
Commissioning Process
Make-Ready Process
Decommissioning Process.
Target Users
Housing Administrators
Required Permissions
Residence Manager (min)
Local Admin
Process Configuration
To begin 'Process Configuration,' you must create a 'User Group.'
From the 'Configuration' menu select 'Process Configuration' and click on 'User Groups.'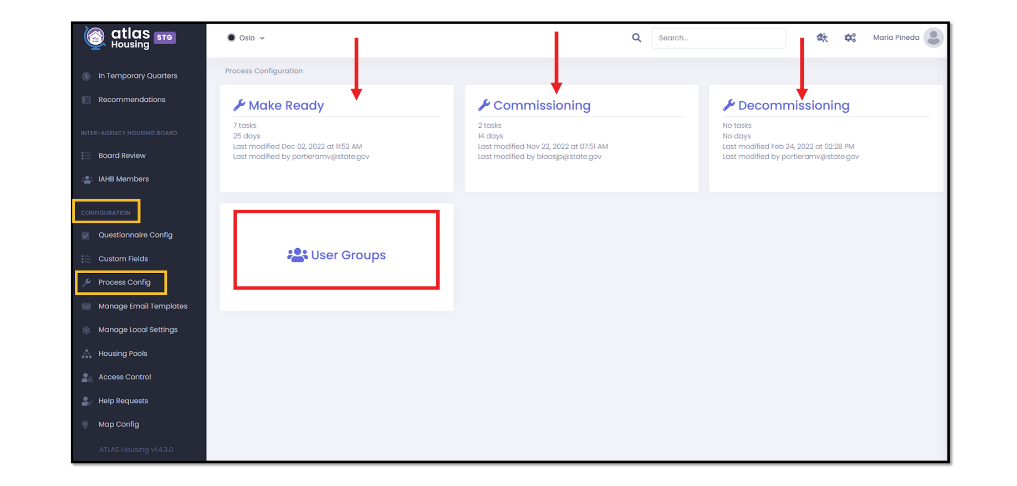 On the 'User Groups' screen click 'Add,' set the name of the group, add the members that will belong to the group, and click 'Save Changes'.
Remember, you must create groups first. Then you may add group members. Members can be added to ATLAS Housing through 'Access Control' and assigning the required role.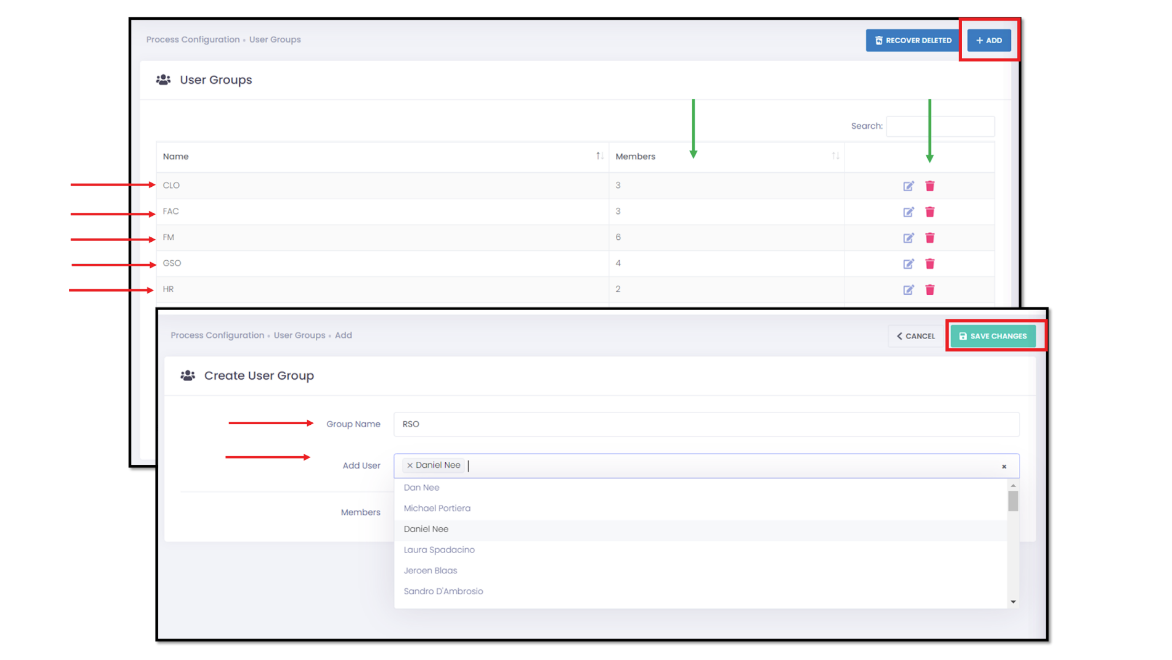 Once 'User Groups' are configured you may start 'Process Configuration.'
You may begin with any of the three processes, but we highly recommend you work in this order to be prepared for Transfer Season.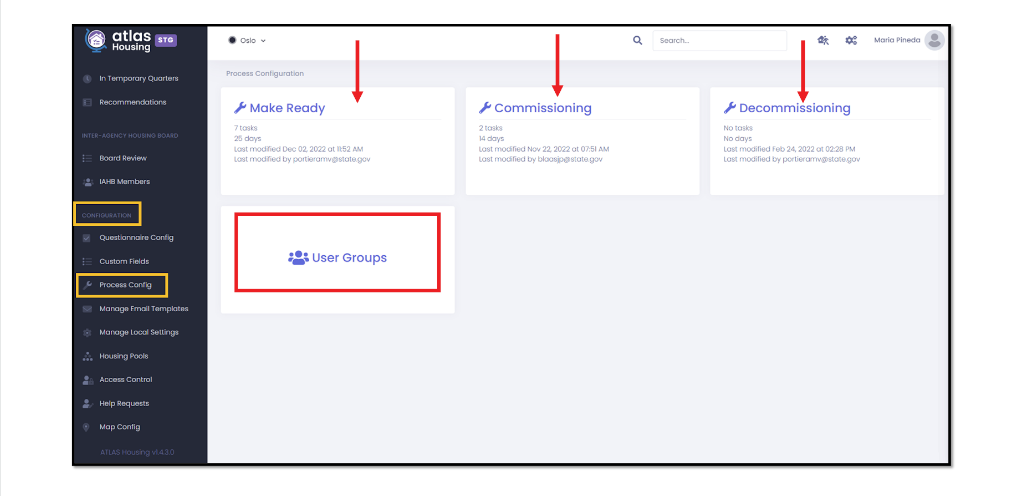 Creating Tasks
In the 'Make Ready Template' click on 'New' and select 'Tasks.' Here you will be able to add the following information:
Name: This is the name of the Task, for example 'Pre-Departure Inspection.'


Assigned To: This will depend on the groups previously created (ex. RSO, GSO, etc.). You can always create more groups if needed.


Ownership Type: Any, Leased, or Government Owned residence

Email Notification Configuration
You can customize email notifications when adding a Task. Notifications will be delivered to the groups assigned to that specific Task.
Select the type of notification: Task Assigned, Task Created, Task Completed, etc.
Customize the message and select the email notification recipient: Task Assignee, Incoming Occupant, Incoming Sponsor, or Social Sponsor.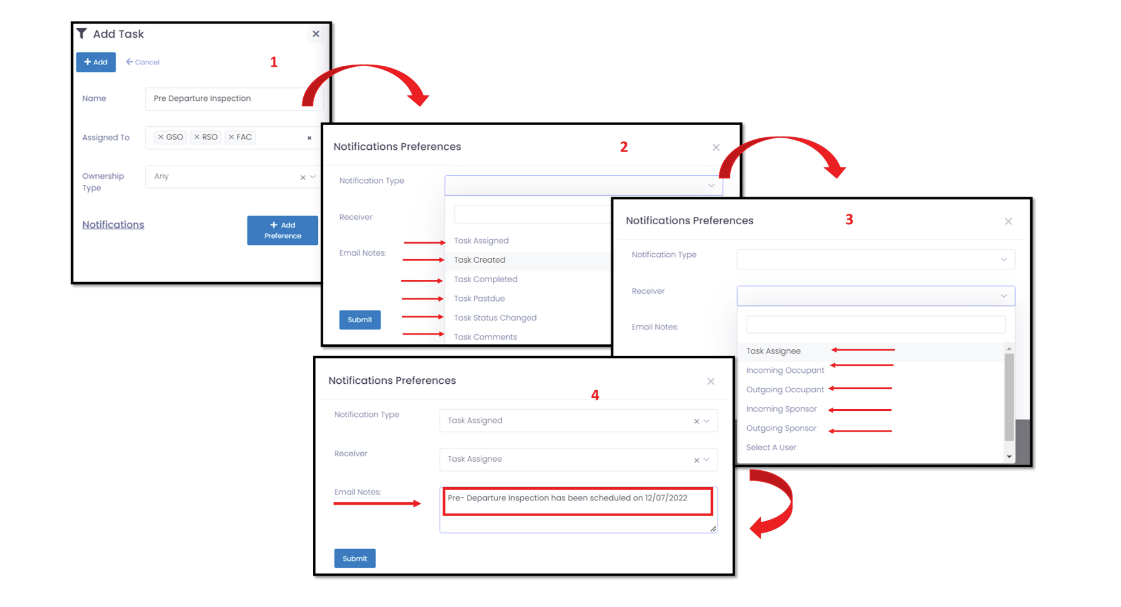 Creating Events and Tasks
You may create 'Events' for your processes. Remember, once you create an 'Event' you cannot delete it! (The Developers Team is currently working to create this future option.)
You may edits Tasks in the process by clicking the ellipses (three dots) next to the Task. Once you change the name or any other configuration piece click 'Update.'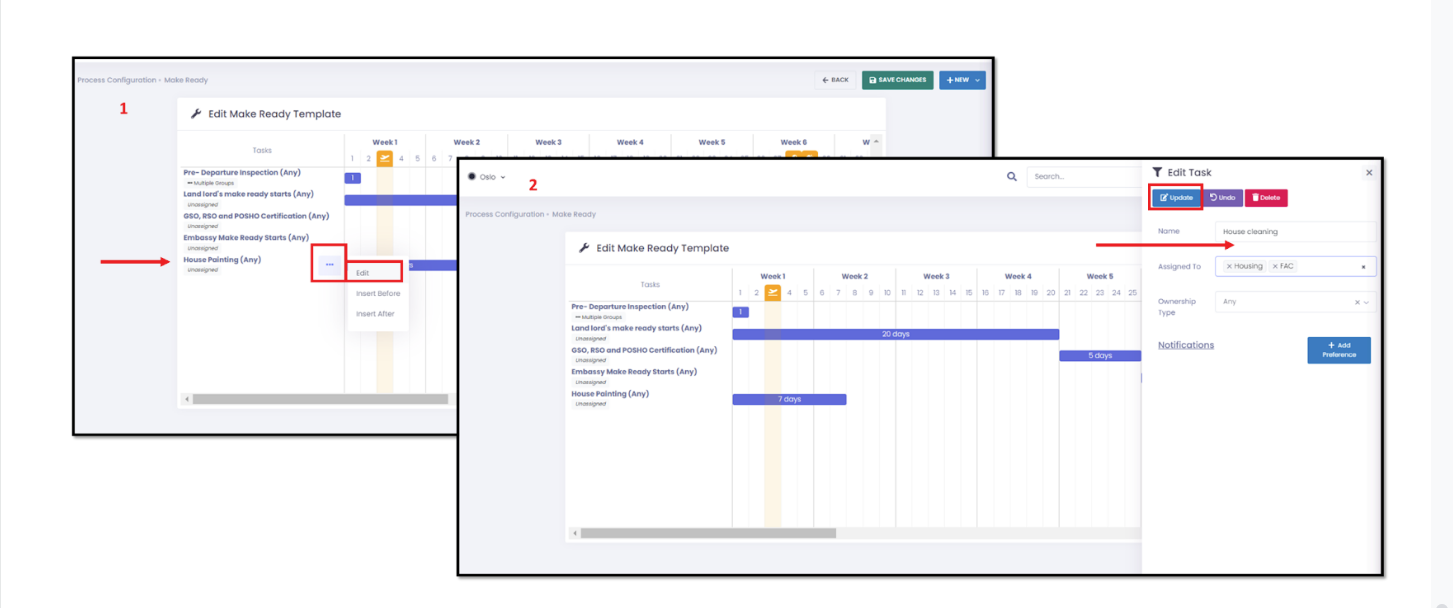 Benefits of the Housing Processes Templates
Besides editing you can:
Edit the number of days that a Task or Event will take place.
Move the order of the Tasks at your discretion and by priority.