Topics Covered
Finance Fiscal Entry
Target Users
Finance Analyst
Each award nomination with cash requires fiscal data and FM approval. Finance staff (LE Staff or USDH) will enter the fiscal data, then the FMO will sign off on the nomination. To complete this, follow the instructions below or view the instructional video.
To enter fiscal data for awards, the Financial Analyst will first select Pending Fiscal Data item from the Finance Area.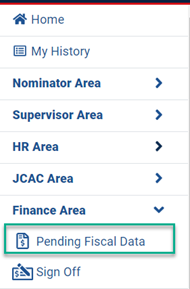 All nominations requiring fiscal input will display. You can filter by cycle or leave it at 'All or Not Assigned' to see any nomination pending financial information. Select the nomination by choosing the link.

Scroll to the bottom of the nomination to enter the fund cite/fiscal strip and save.

The nomination will now move to FMO and EXEC for simultaneous sign off.