Topics Covered
ATLAS Directory Release Notes
Target Users
ATLAS Directory Users
Required Permissions
n/a

ATLAS Directory Release Notes v1.9.0
Phone Tree View as List
A new option to view a Phone Tree as a list, an alternative to the tree view, has been added for Phone Trees for both Administrators and Employees to use.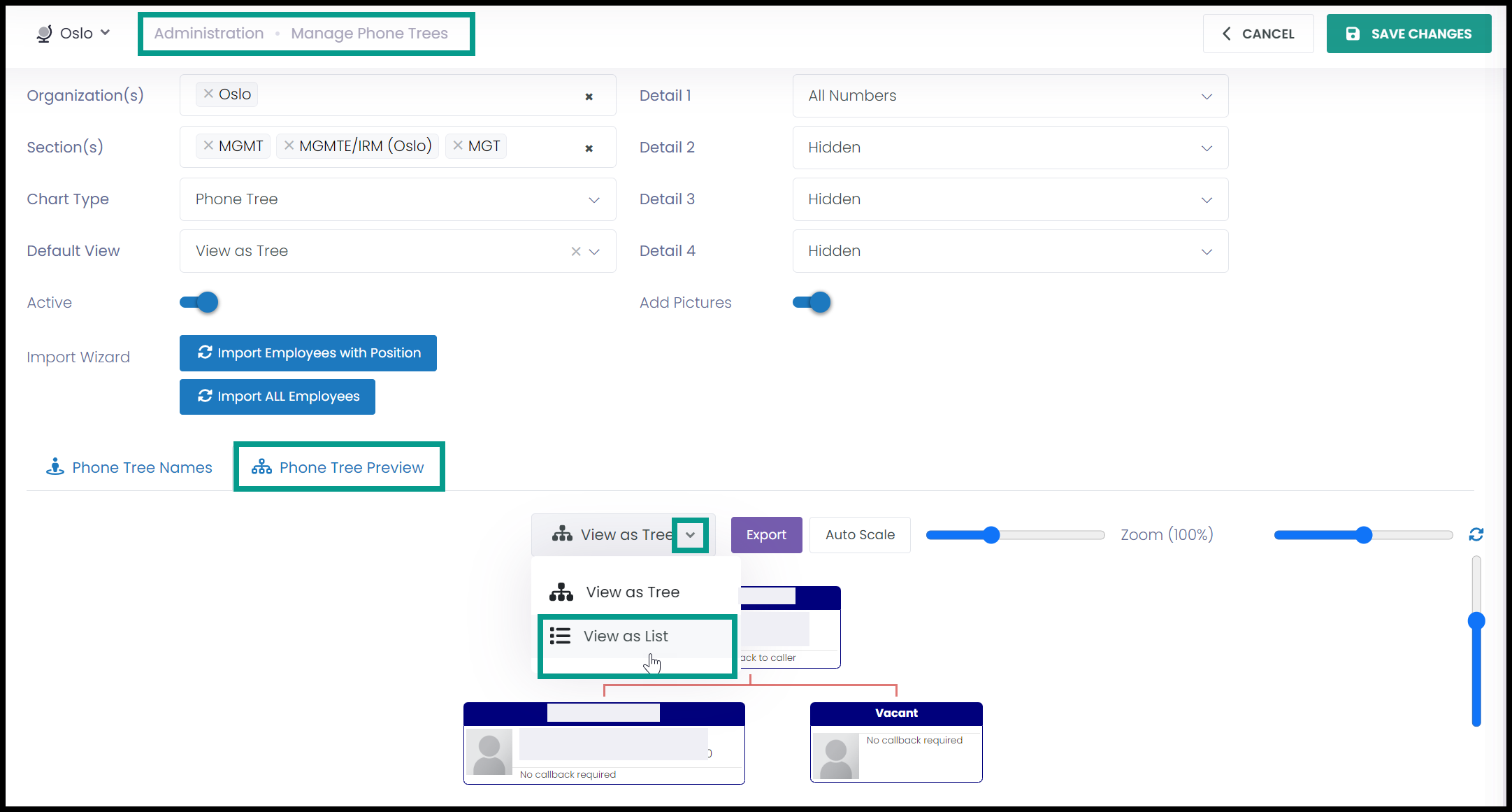 Positions Management (Admins Only)
When an employee's record has its own agency set, the Current Occupant column will show the Employee ICASS between brackets. The Position ICASS column will show the code linked to the Employee position value.

Bulk Edit Employees page (Admins Only)
The existing Agency column has been renamed based on what property it is: Employee or Position Agency. Added a new Read-only column for the 'Position Agency' after the 'Position' column. To take less space on the page, Building and Room columns are now hidden by default and must be enabled through the columns filter.

Dashboard (Admins Only)
Added a configuration option to disable export for standard users.

Manage Households Members Page (Admins Only)
The header has been updated to Household Members (EFM & MOH).

Radio Module (Radio Admins)
Under the Radio menu, Radio Check entries, we added the Section column to the list view and the exported report.

ATLAS Directory Page Footer
Added links to User Guides and ADG Support Website.

Miscellaneous
US numbers format is automatically applied to match the following: (+1) xxx-xxx-xxx

Release v1.9.0 includes additional bug fixes.

Any additional follow-up on ServiceNow support tickets will come from the ADG Support Team.
For additional help, please contact ISC at Post or ADG Support by selecting the 'Submit a request' button at the top of the page or by emailing 

adg-support@state.gov.
Visit the Global Application Portal (GAP) for the latest news and information on all the ADG's applications.