Pre-requisites: n/a
Topics Covered
Print Templates
Target Users
Users
Organization Administrators
Required Permissions
Administrative Permissions


When a user is granted Administrative permissions, the Contacts Menu and Administration Menu will be available to edit information at Post. These menus are used to edit essential information for Employees and Contacts, and the Administration details of a Post or Mission. To access Print Templates, select the Administration drop-down menu.

Select the Administration drop-down menu, and then select Print Templates. This will take you to the Print Templates page. The Print Templates page allows you to create different types of Print Templates for printing reports such as ATLAS Directory Contact Lists. See Figure-1 below.

Figure-1
Select the Create New button. On the Create New Templates page, you can fill in the Template name and can select between three template forms to create from. You can choose between Create New Template, Create from Local Template (to reuse a template that has already been created at Post), and Create From System Template (to pull from another Post).
Within the Create New page, fill in the information you would like for your template, and then select the Create button. The Print Preview window will show up, allowing you to make changes before using the template. Select the Save Changes button and confirm that the new Print Template is available. See Figure-2 below.

Figure-2
If you select the Edit button for a Print Template, you will be taken to the Print Template preview page. Under Name & Publish Settings, the user can adjust the name, if the template is published, and the list you would like to preview in the preview window.
Other sections can also be adjusted, including all the details you can select to be shown on your Contact List Print Template. In the Body section, you can select the Theme, Text Color, Font and Font Size. In the Page Layout Section, you can adjust Page Size, Orientation, and Margins. You can adjust Column Headers, the page Header or Footer with a Header Preview feature, and adjust the Group details in the Template. See Figure-3 below.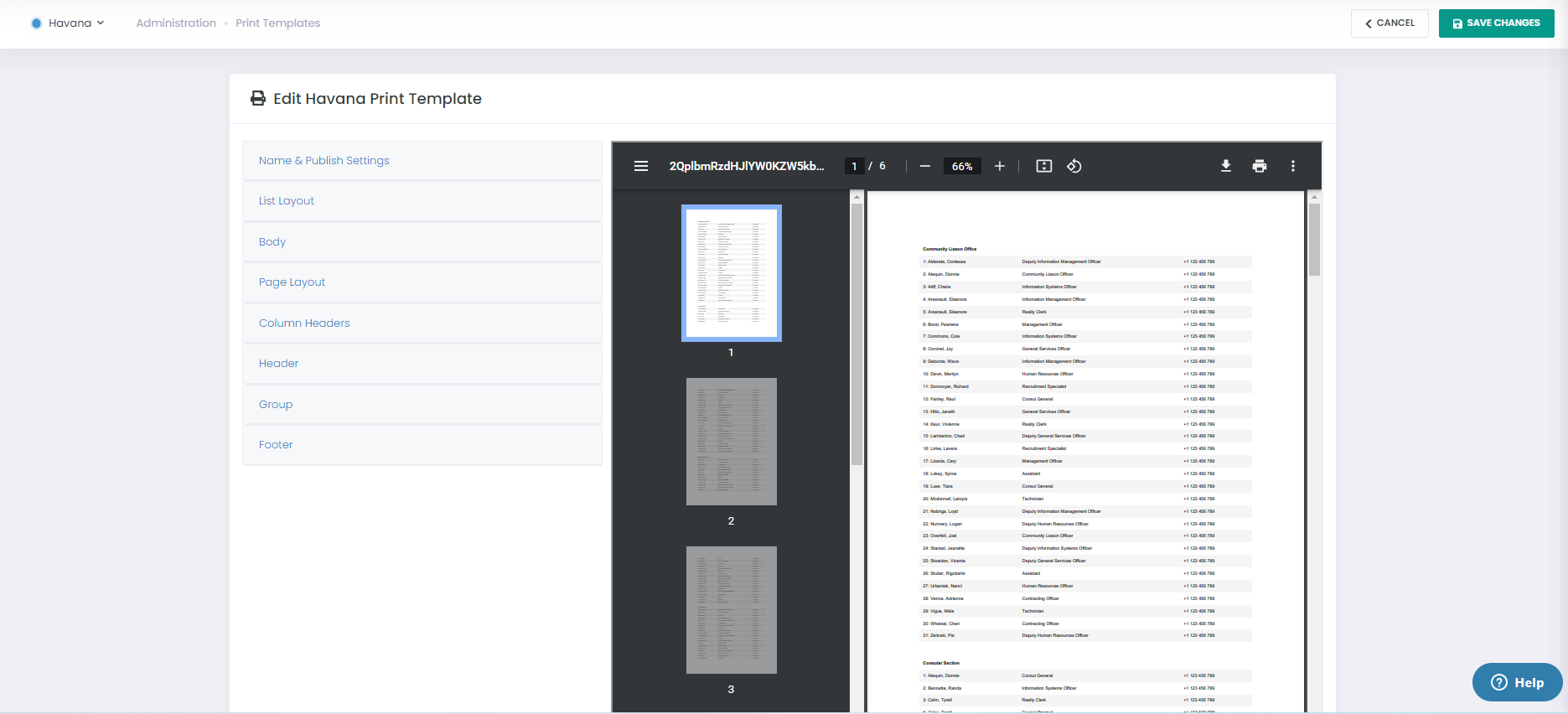 Figure-3
Select Save Changes to save the adjustments you have made to the Print Template. You can access these details at anytime by selecting Edit in the Print Templates page.