Topics Covered
ATLAS Firma Dashboard
Filtering Forms
Target Users
All Users
Required Permissions
n/a

My Forms Dashboards
The dashboard provides an at-a-glance view of your Forms with multiple viewing options, depending on the needs of the user.
All Current (Unarchived) Forms View
The default view is set to All and allows users to see every form s/he authored or is required to sign.

Action Items
Forms that require action are listed in the top banner. Additionally, the Sign button appears on the lower right corner of the form for users to click and apply a signature to the form.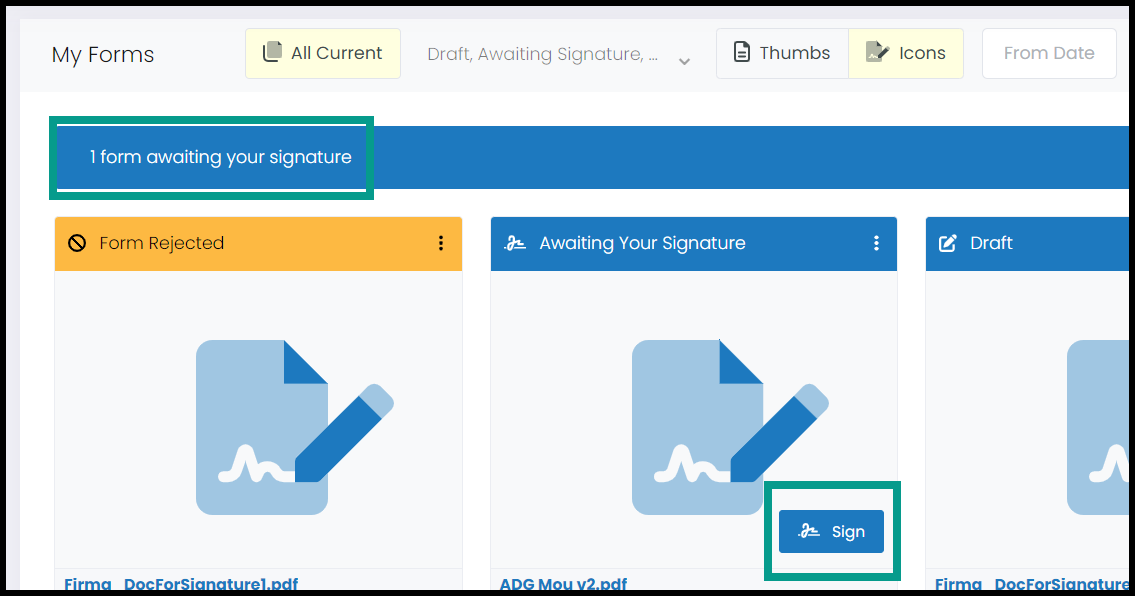 Filters
FILTER BY TYPE:
To view only one type of form, click the drop-down menu and select Archived, Completed, Draft, Rejected, or Awaiting Signature.
FILTER BY DATE:
Users can also filter by date. Simply type in or select the 'From Date' and 'To Date' to filter the forms by date range.

Thumbs vs Icons
Users can customize the profile dashboard to preview forms as either thumbnails or icons. If you work in a public location or require privacy to view your forms, you might prefer the Icon view, which displays limited information. If you require a full preview, select the Thumb view.
Thumbs
To customize the profile dashboard to display thumbnails, select Thumbs from the My Forms menu. All forms should now be visible as a document preview.

Icons
To customize the profile dashboard to display limited information, select Icons from the My Forms menu. Only the ATLAS Firma icon, workflow step, and form title are visible.

How Forms Are Ordered - Signature Workflow Status
ATLAS Firma forms are ordered according to priority, which is determined by signature workflow status. A yellow banner will appear if action is required by a user. These forms will always be listed first.
Signature workflow status is also easily determined by a form's banner. Banners are clearly marked by color and label.

For additional help, please contact ISC at Post or ADG Support by selecting the 'Submit a request' button at the top of the page or by emailing 

adg-support@state.gov.
Visit the Global Application Portal (GAP) for the latest news and information on all the ADG's applications.