Topics Covered
Delegated accounts and Okta

Import and Export Data
Target Users
Service Providers

Organization Administrators
Required Permissions
Introduction
Each ATLAS Workflows user can grant delegate access to other ATLAS Workflows users. The delegate can act on the employee's behalf. Typically, the delegate is another employee (for example, an OMS) or a household member.
Delegated Accounts
1. Go to the Dashboard menu and scroll down to For Service Provider and click Manage Logins.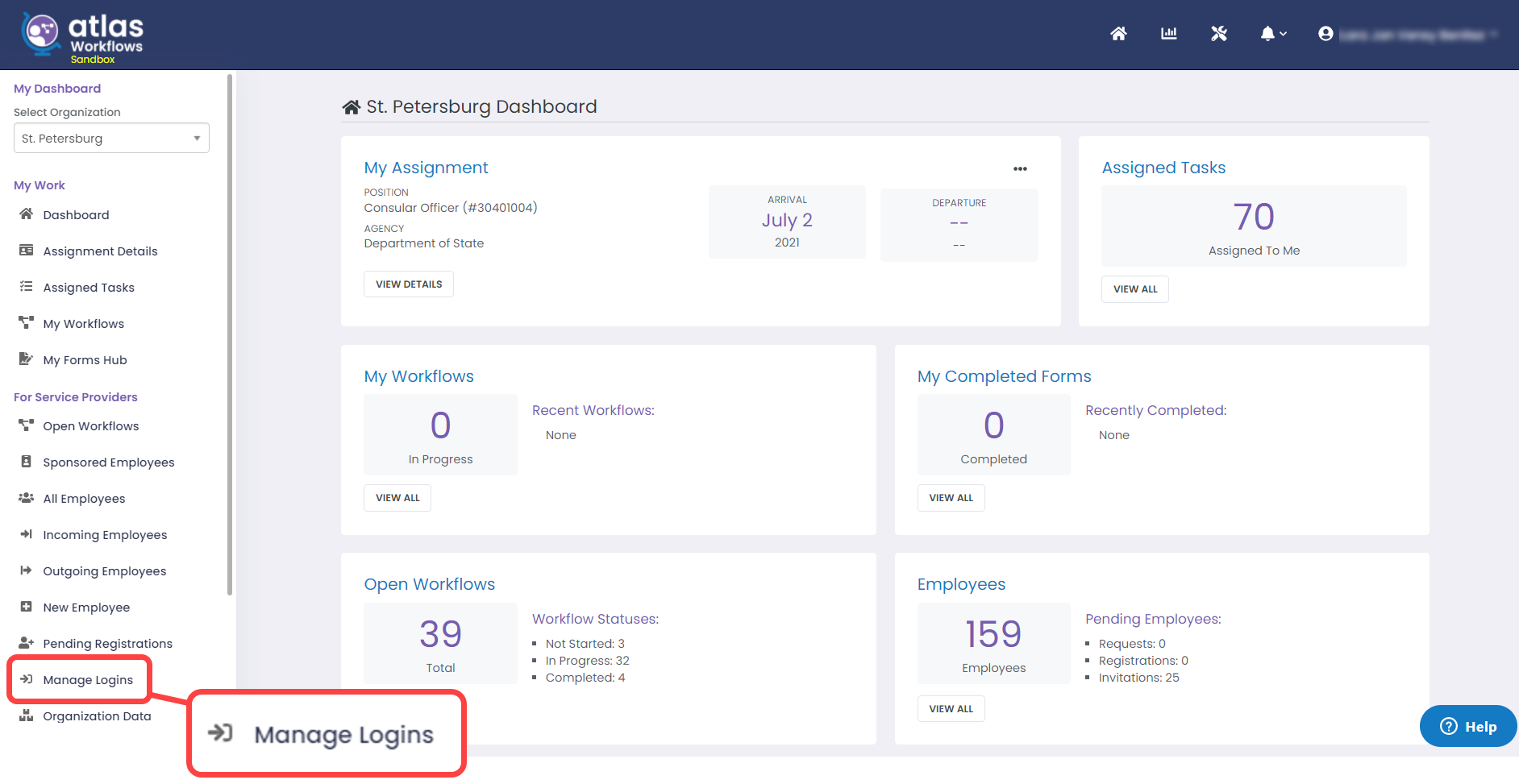 Figure-1
2. On the Okta Account Linking Management page, click the Delegated Accounts link.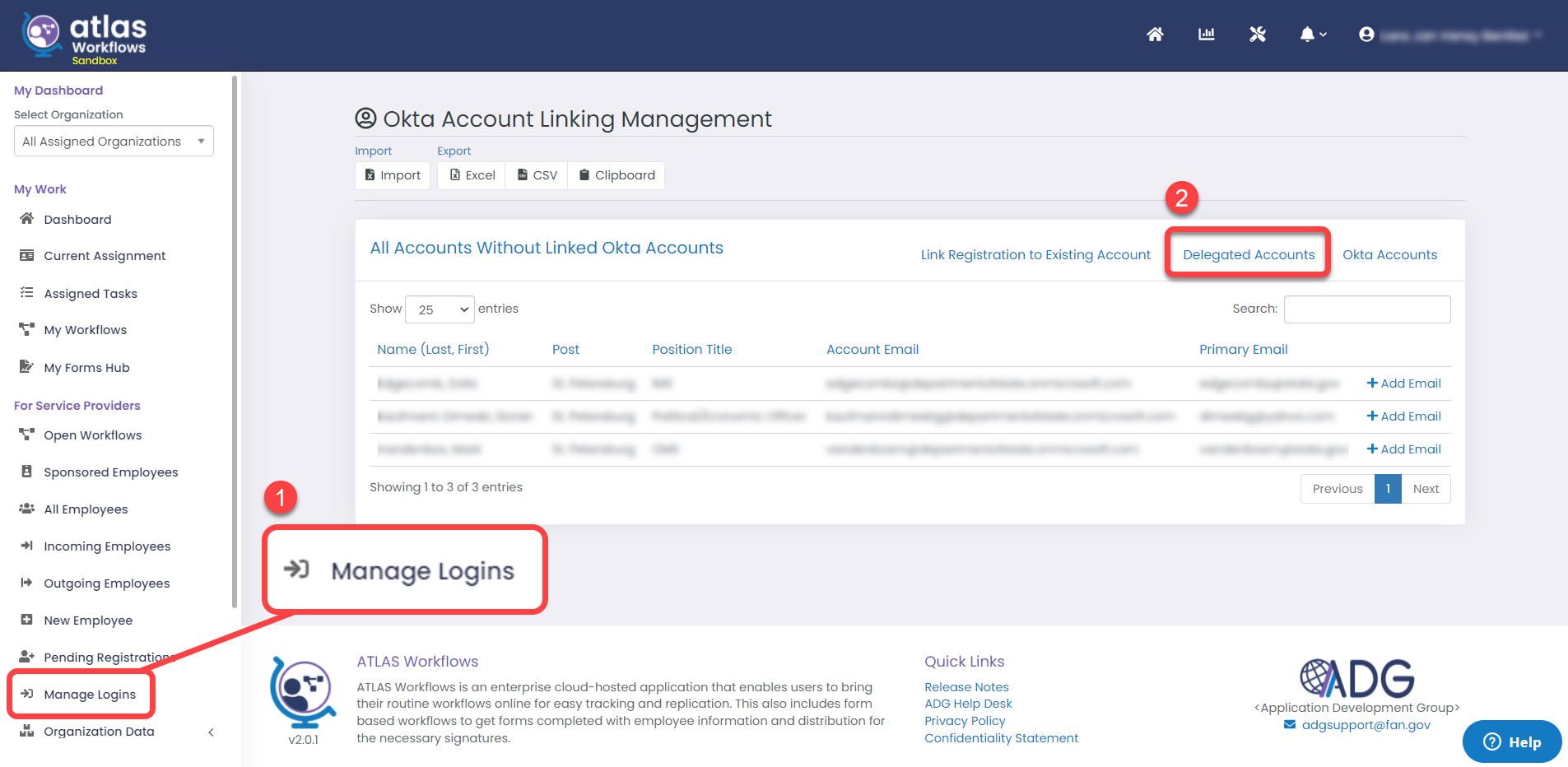 Figure-2
3. You may choose which account to link. You can either search for the Name or select from the options available. To link an Okta email, click the Add Email link.

Figure-3
3. Confirm the Email Address given and click the Save button.

Figure-4
Once you've successfully linked the account, you will not be able to see the account on the table list.
Import and Export the Data
This page also allows you to import and export the data.

Import Data
At the left upper buttons list, click the Import button and it will redirect to Importing Account Emails from the Excel page.

On the Importing Account Emails from the Excel page, you can choose from the two templates available:
1. If you select the Download Excel Template link, an "empty" template will be downloaded.
If you open the template, you will see these columns on the first line: Name (Required), Account Email (Required), Post, Position, Primary Email, and Okta Email (Required).

Starting with the second line, fill in the values according to the header.
2. If you select the Export Accounts in Excel Format link, all accounts from the table list are exported.
Complete the attribute fields.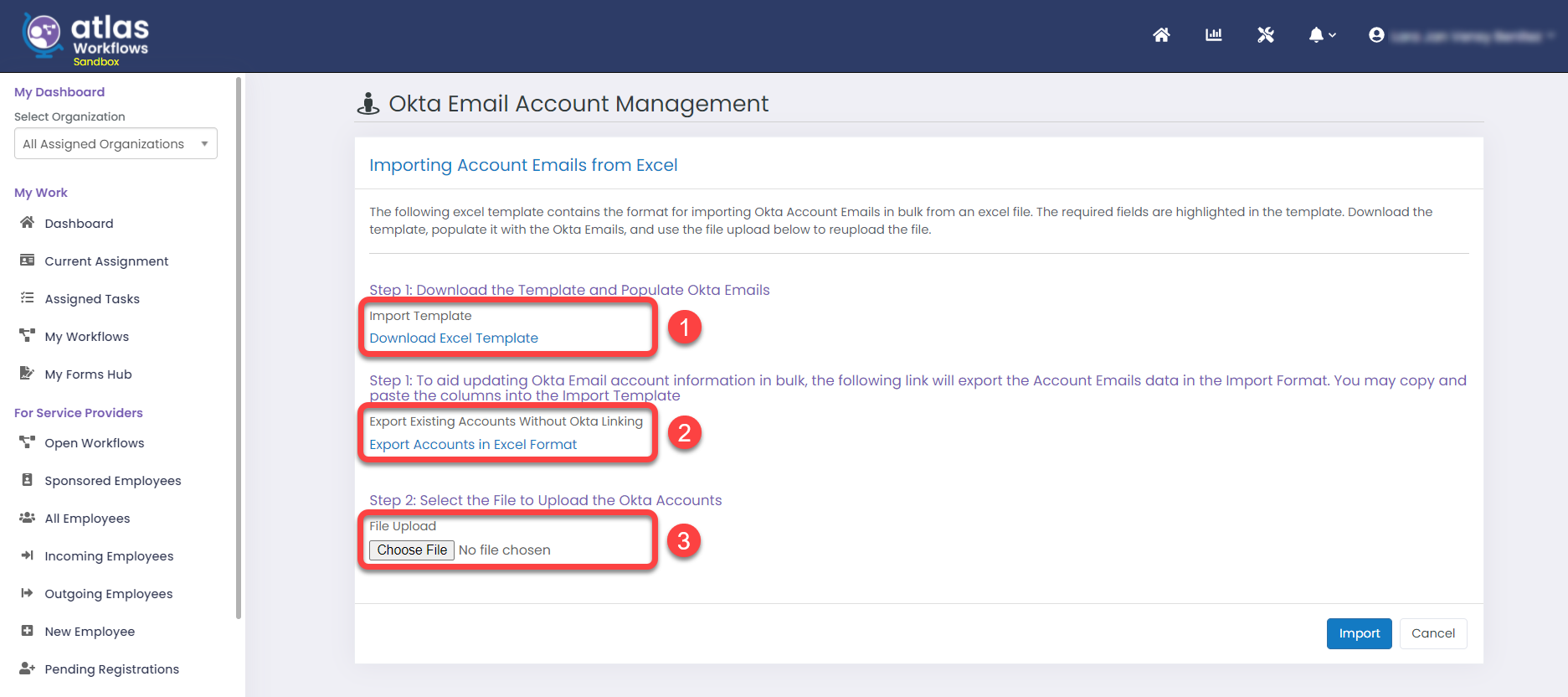 3. Go to Step 2 and click the Choose File to upload.
Select the

template

file to import and c

lick

Open

to begin importing the file to the system.

Click the Import button. A validation process runs to make sure that the file is properly formatted and the

matching criteria are met

.
Click the Complete Import button.

Once successfully imported, the window will automatically close.
Export Data

There are three export buttons available:
The first option, we have is the Excel button, allowing us to export the data in a new workbook.
The second option, we have is the CSV button, allowing us to simplify the conversion of the XLSX (XLS) table.
The last option, we have the Clipboard button, allowing us to copy output to the clipboard.