Pre-requisites: Directory Administrator Role
Topics Covered
AFN Email Notifications
Target Users
Directory Administrators
Required Permissions
Directory Administrators


Configuring Email Notifications
Note: The AFN Email Notification setting can only be changed by a Directory Administrator.
Users may also select the option for AFN Post Representatives Distribution List email notifications to include either AFN Permission Changes and/or Expiring AFN Activations. The steps to configure these options (for each targeted Organization) are:
Directory Configuration
Select Directory Configuration from the Administrator dropdown.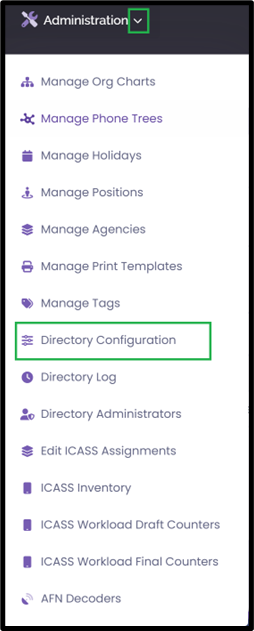 Select the Organizations tab and click the Edit button.

Select the Modules tab and enter the AFN Activity Distribution List. Here you can enter the email address of the DL and enable/disable notifications for expiring AFN Activation items (1 month prior to expiring dates).