Topics Covered
AFN Decoder Administration
Target Users
Administrator
Required Permissions
n/a

AFN Decoders Administration Page
The user who has the AFN Activation Manager role will have access to the AFN Decoders page under the Administration menu.

From this point, a user can:
Accept, deny, and reset outstanding activation requests
View and manage the decoder and activations inventories
Create new requests and add decoders
Edit and delete activation requests and decoder inventory items
Bulk import items to the inventory
Use filtered views for inventory items

Navigating the Inventory Page
Note: Only users with the

AFN Activation Manager

role can access this page.
The AFN Inventory page will list all current and past activations for your Post. You can access a number of tools for managing your records on this page as well.

Click on the banner (1) to see all Pending Activations Requests. From the Pending Requests Page, you have the option of approving, rejecting, renewing, deleting, or editing the record(s).

The USG-owned Decoder Inventory button (2) allows you to view all items by Current, Pending, Expired, or Rejected requests as well as all items or All Activation Requests.
The Edit button (3) allows you to edit the values of the record.
The Ellipsis

button (4) gives you access to the following options (Note: The options available depends on the status of the request):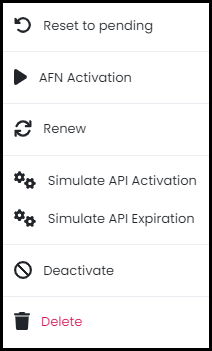 Reset to Pending: Change the status to Pending
AFN Activation: Complete the Activation on the My AFM website
Simulate API Activation: Set the Virtual Decoder Activation to Completed
Simulate API Expiration: S et the Virtual Decoder Activation to Expired
Deactivate: Set the status to Expired
Delete: Delete the record
Bulk Import
Use the Bulk import feature to quickly import multiple items at once.

From the Bulk Import AFN Activations page, you can select the Download Template button to download the AFN Activations Import template and open and fill in all required fields to make changes OR you can select Export Current Archive button to get the most recent records (which can also be used to update many records at once).
The page also displays a detailed description of Special Column Values included in the spreadsheet.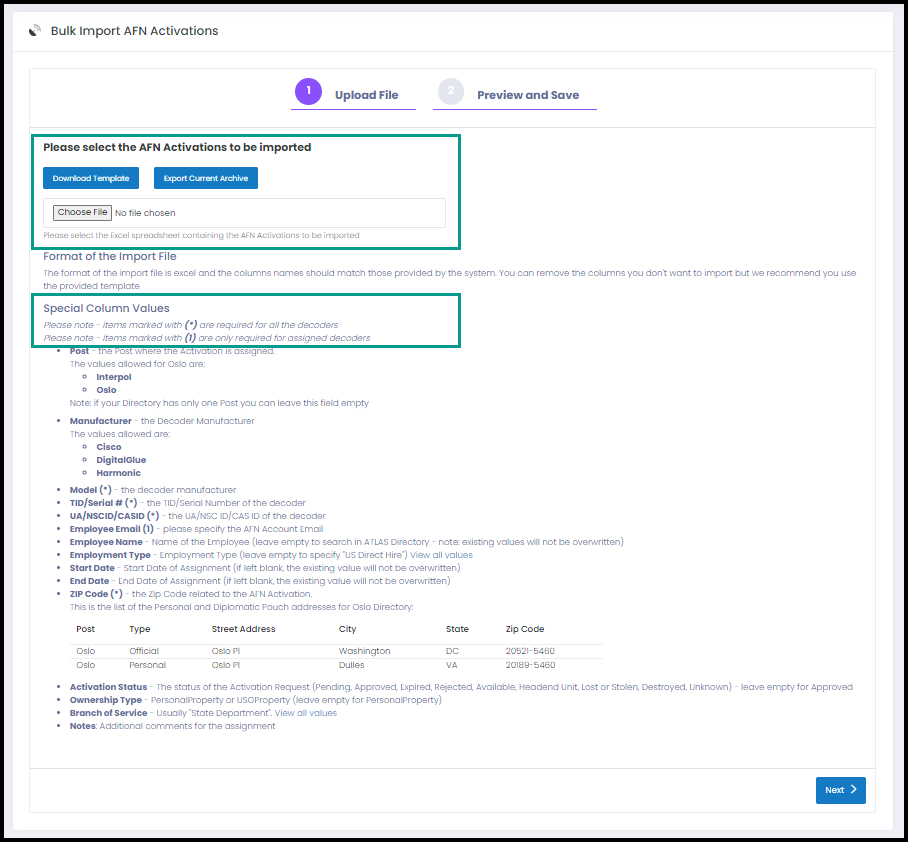 To upload your template and review, drag and drop the file OR click Choose File to select the file from your computer.
Prior to submitting changes, the system will review each entry and provide a preview. Entries that were made successfully will display success, while entries that were created incorrectly will not be imported and will be ignored. Choose Save Records to import if you are satisfied with the changes seen in the preview.
Related Articles:
American Forces Network (AFN) User Manual
Related Video:
Managing New AFN Decoder Activations and Inventory
For additional help, please contact ISC at Post or ADG Support by selecting the 'Submit a request' button at the top of the page or by emailing 

adg-support@state.gov.
Visit the Global Application Portal (GAP) for the latest news and information on all the ADG's applications.