Pre-requisites: You need Post Administrator permissions to create a workflow. As a good practice make sure, that you have your workflow Category setup prior to the creation of a workflow
Topics Covered
Creating a workflow
Permissions
Who can assign a workflow
Target Users
Organization Administrators
Required Permissions
Manage Workflows
Introduction
A Workflow is a container for a list of tasks needed at your post and contains tasks of several types. (We will show you at a separate article how to add the tasks). For instance a user has a need to fill a special form, you can add the form to the workflow with instructions how to fill the form and include Service Providers, Employees and Supervisors to work on this in one Workflow and assign tasks inside the Workflows to all participating users.
You can create as many Workflows as you want in ATLAS Workflows and add whatever you need.
Who can assign a workflow? Depending on the setup an Employee, a Service Provider or a Supervisor can assign the workflow. A Workflow can get assigned multiple times to the same user if needed.
Also other agencies at post can create their own workflows and make it easier to organize their needs.
One possible example for a workflow:
An Employee needs a payment certificate from HR, you can start the request to HR to work with the internal HR process to get this request accomplished.
How to create a Workflow
Navigate to 'Administration' with clicking on this icon:

On the left menu you can see the 'Workflows' and click on it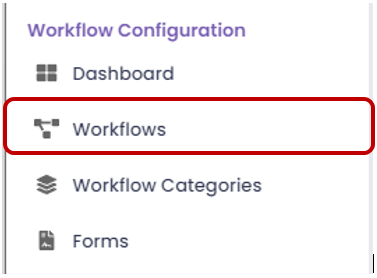 An new window opens up. Now click on 'New Workflow'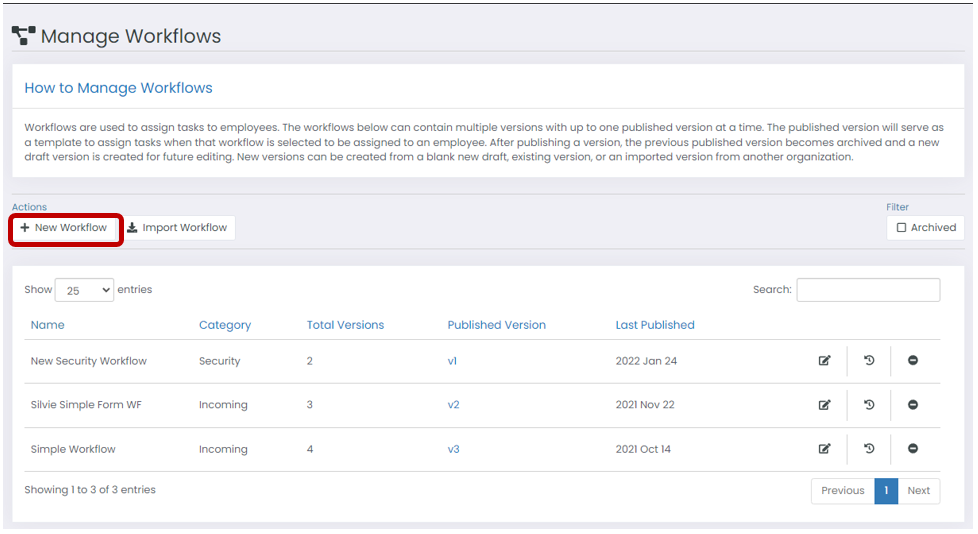 Provide information in all yellow fields which are mandatory. Since a new Workflow gets created use the 'New Workflow' setting from the drop down, Provide a name and leave it as 'blank draft'. Don't forget to provide a description and chose the Workfow Category at from the drop down. Keep in mind to create a new Workflow Category first if you want to use a new or special category which is not defined yet.
Now click on 'Add'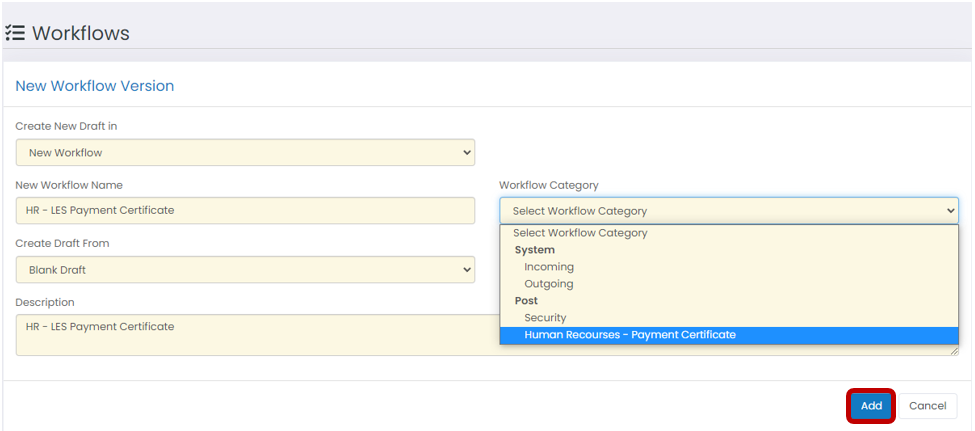 Now we can edit the settings and permission like shown below
Permissions on a Workflow
We will show you here which settings and permissions are needed. Different permissions? Yes! An Employee can assign a workflow and also a Service Provider and this defines who is able to work with that workflow. This is the framework to get filled with tasks. We will show how to add tasks in a separate article.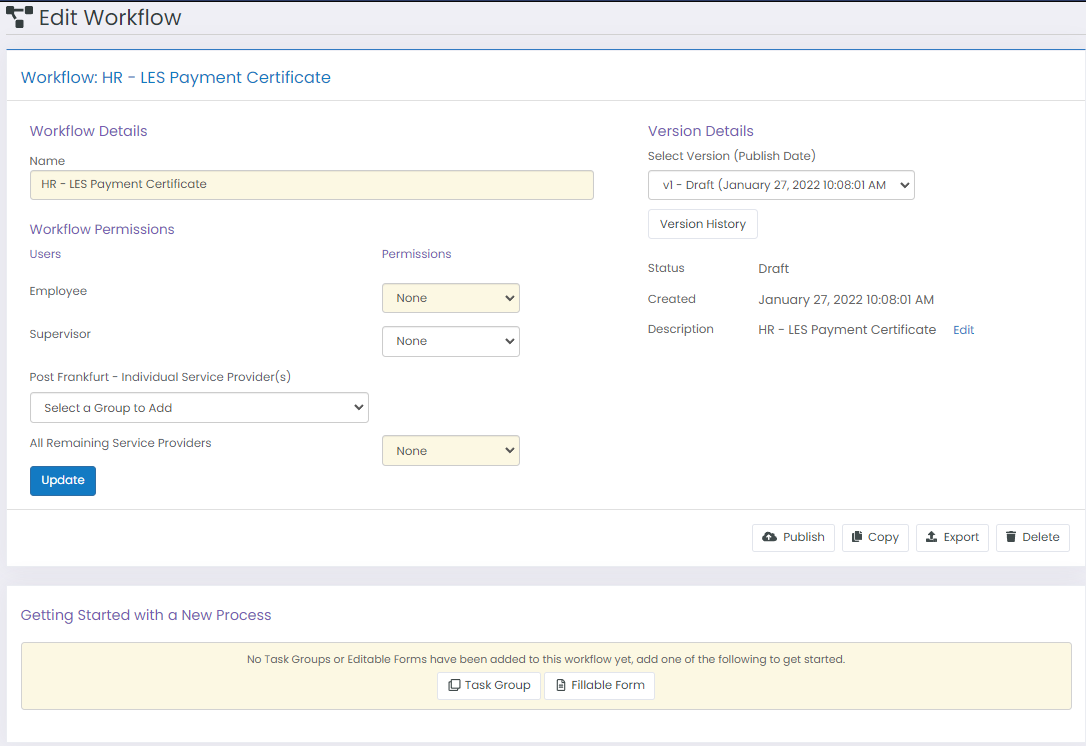 If Employees should be able to assign the workflow to themselves you have to change the permission for the Employee from 'none' to 'assign'

For Supervisors it is totally optional if they should assign a workflow. It has the same options like for the Employees
Now we have to set permissions for the Service Providers. Which Service Provider group should work with this workflow? Is a Service Provider group needed? If so you can add individual groups and assign the same options like for the Employee above.
If all other Service Provider groups should work with the workflow you should alter the permission as well.

After all permission are set click on 'Update' to make sure your settings are saved.

Your workflow is created now and you can start adding tasks. We will explain in a separate article how to add tasks.
You can always come back and change the settings of your workflow later. Just navigate to workflows (like shown a the first screenshot) search for your workflow and click on the pencil at the right site.

You will see an additional article on how to maintain and use your workflow.
Who can assign a Workflow
Depending on permissions Employees, Supervisors or Service Providers can assign workflows.