Pre-requisites: GoMBC Admin Training
Topics Covered
Transfer Employees to a New Rating or Reviewing Supervisor
Target Users
HR Administrators
Required Permissions
HR Admin Role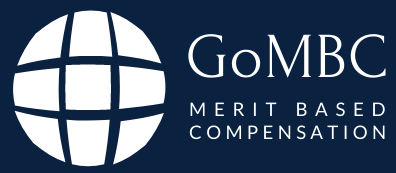 Transfer Employees to a New Rating or Reviewing Supervisor
When a Rating or Reviewing Supervisor changes positions or leaves a position for any reason, such as a resignation or transfer to a new Post, their supervised employees must be assigned to a new Rating or Reviewing Supervisor. The rated employees can be re-assigned to a new Rating or Reviewing Supervisor individually or in a batch reassignment.
Step One: Select Transfer Employees
From the Home Menu scroll down to the Organization Admin Menu and select Transfer Employees. Once you select Transfer Employees, a list of all Rating and Reviewing Supervisors for your Mission will appear.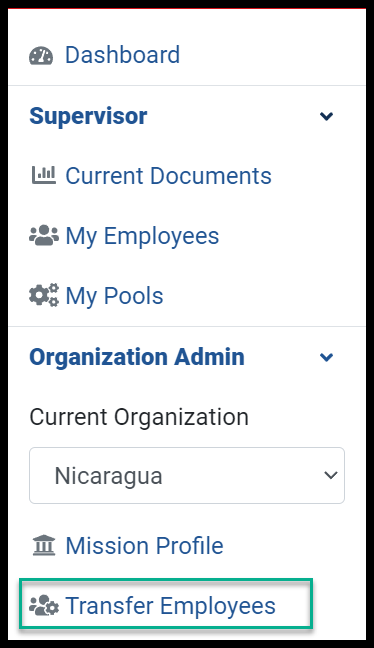 Step Two: Choose the Supervisor Role
Select the supervisor type in the Supervisor Role dropdown, by choosing either Rating Supervisor or Reviewing Supervisor. The list will filter based on your selection. If a supervisor serves as both a rating and reviewing supervisor, you must take the following actions for each supervisor role.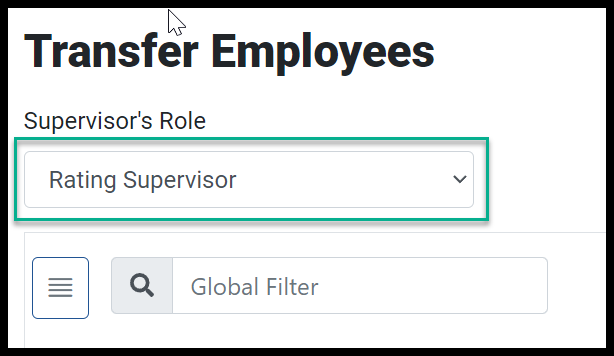 Step Three: Identify the Supervisor
Find the current supervisor from the list or type the name of the supervisor in the Global Filter Search Box.
Step Four: View list of Supervised Employees
Click the arrow to the left of the supervisor's name to view their current supervised employees, corresponding to the role you selected in Supervisor's Role dropdown menu.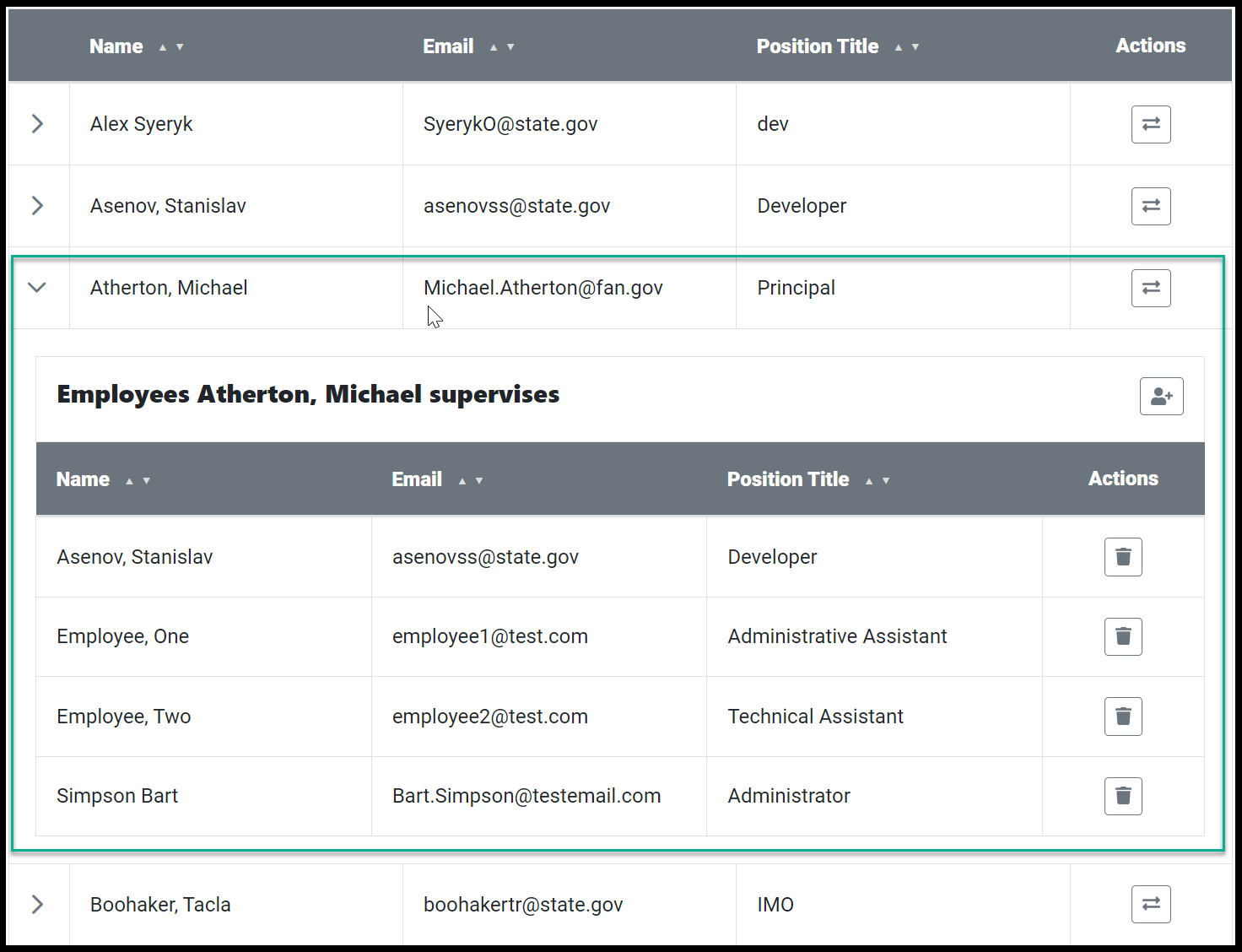 Step Five: Transfer Employees
Click on the transfer icon in the Action column next to the supervisor's name, this action will open the transfer employee window.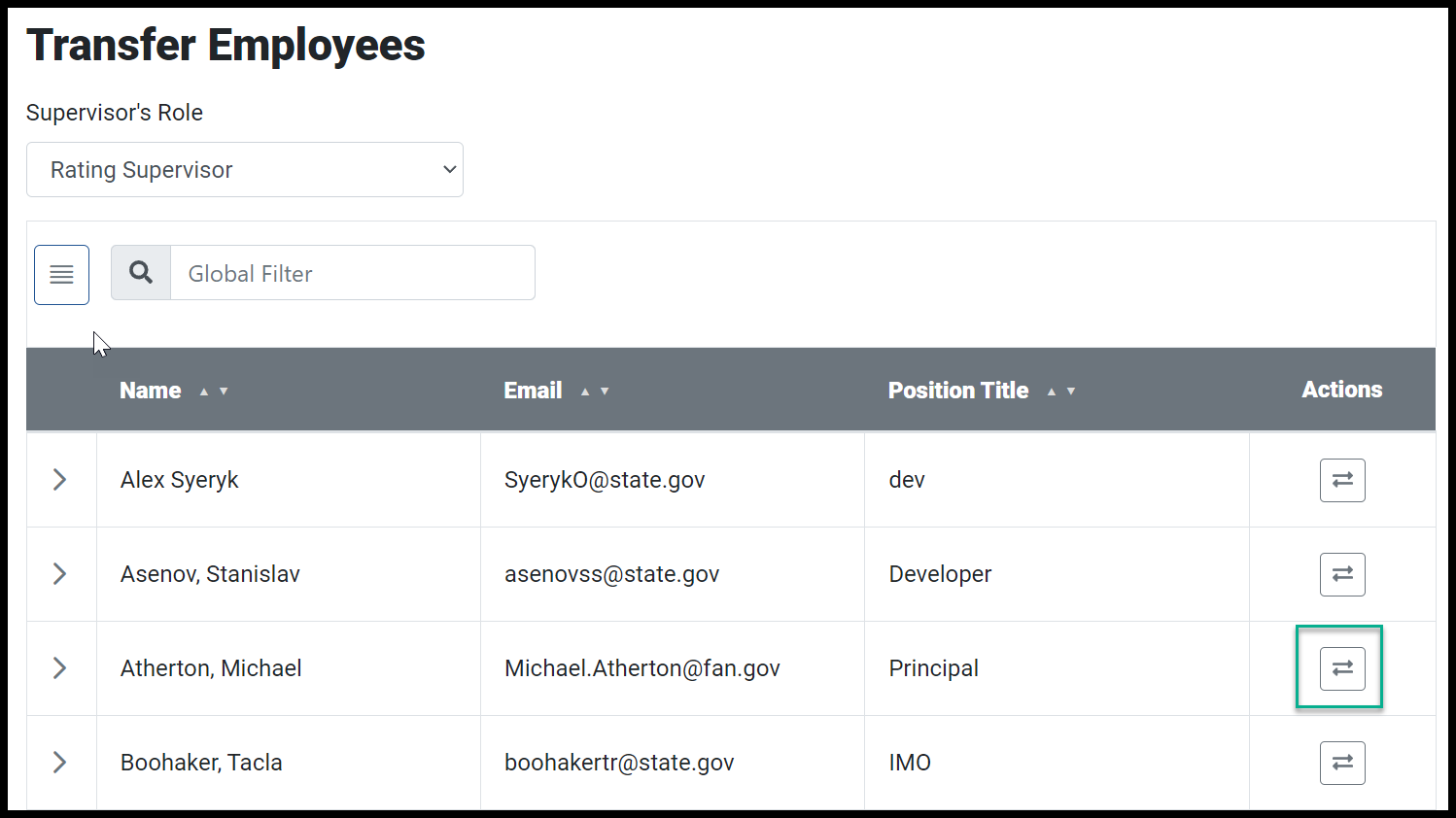 Step Six: Search for the New Supervisor
Search for the new supervisor by entering information in any of the search criteria. If no information is entered, you can click the Search button and a list of all available supervisors will appear. If your desired supervisor is not appearing, verify the supervisor flag in the employee profile is switched to on. To select the new supervisor click on the Person icon in the Action column.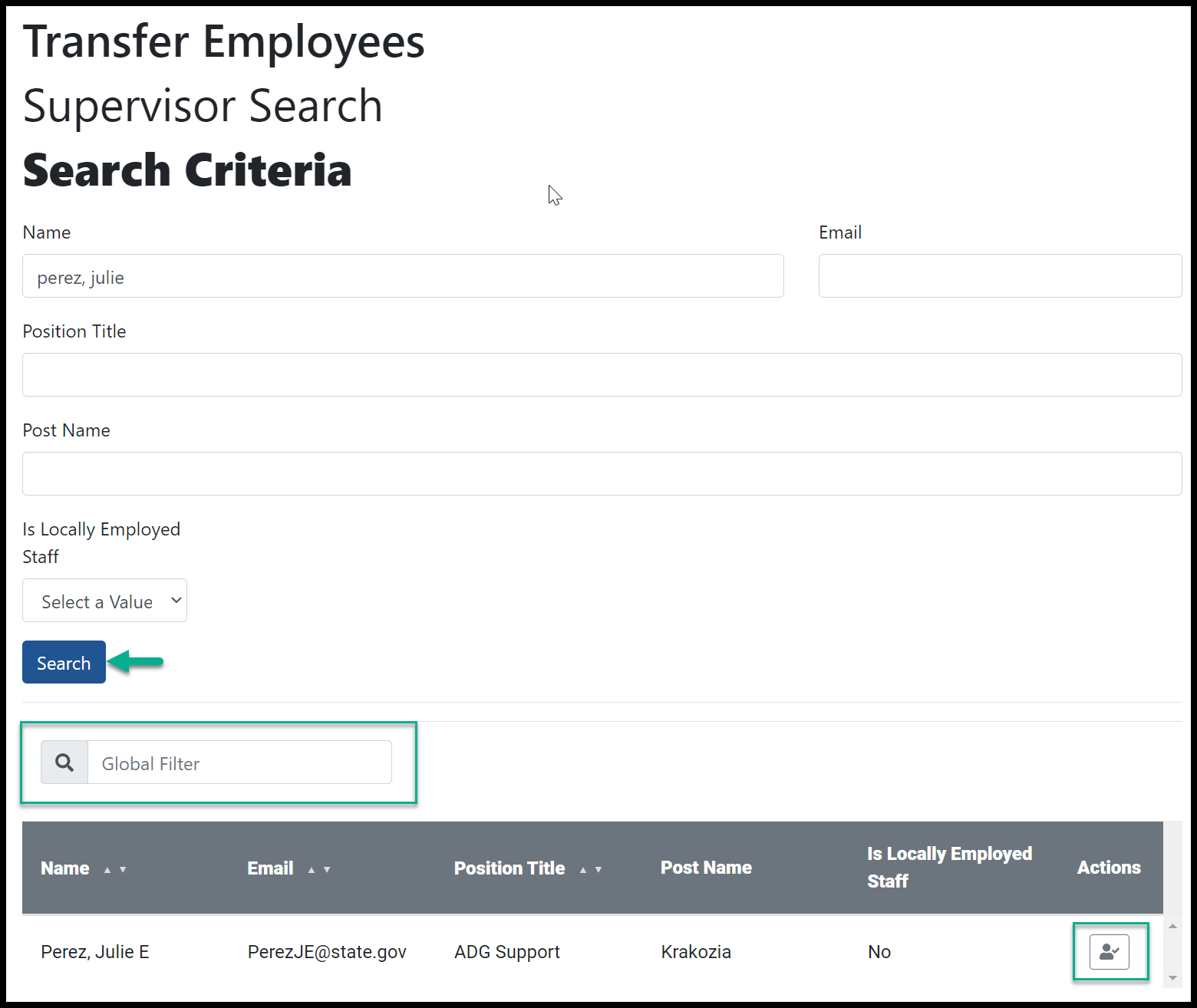 Step Seven: Select Employees to Transfer
On the left, you now see a roster of employees under the current supervisor (the one you're transferring from). On the right, there's a space for the new supervisor (the one you're transferring to).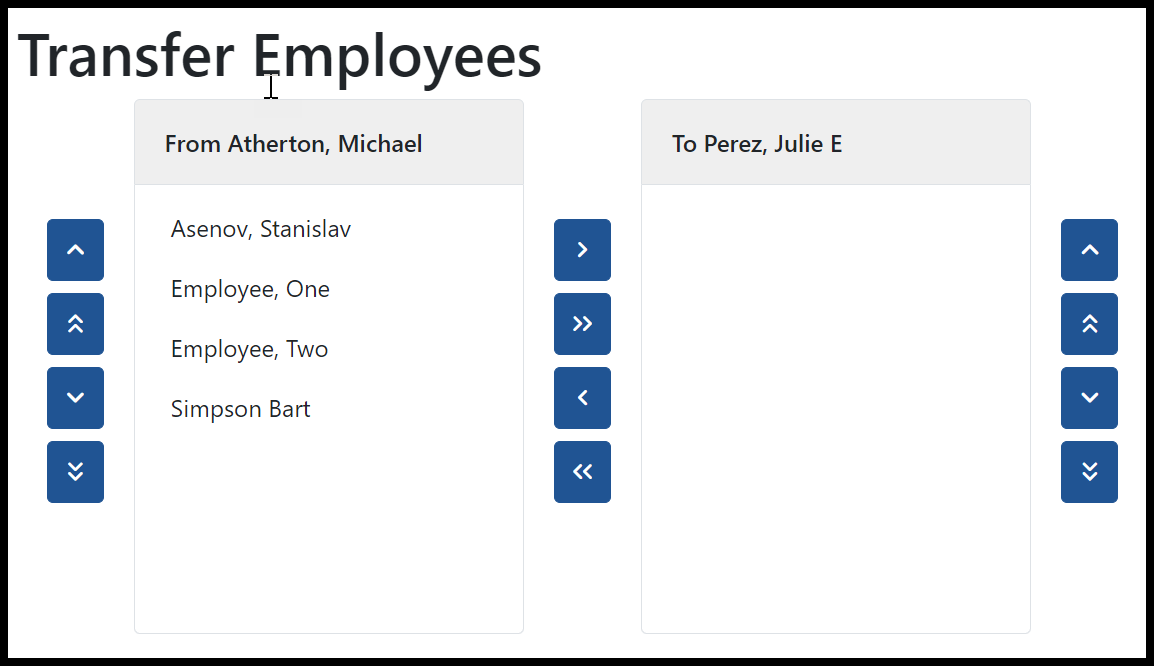 Select an employee to highlight their name, then use the forward arrow control to move this person to the new supervisor. Or use the forward double arrow to transfer all the listed employees to the new supervisor at once.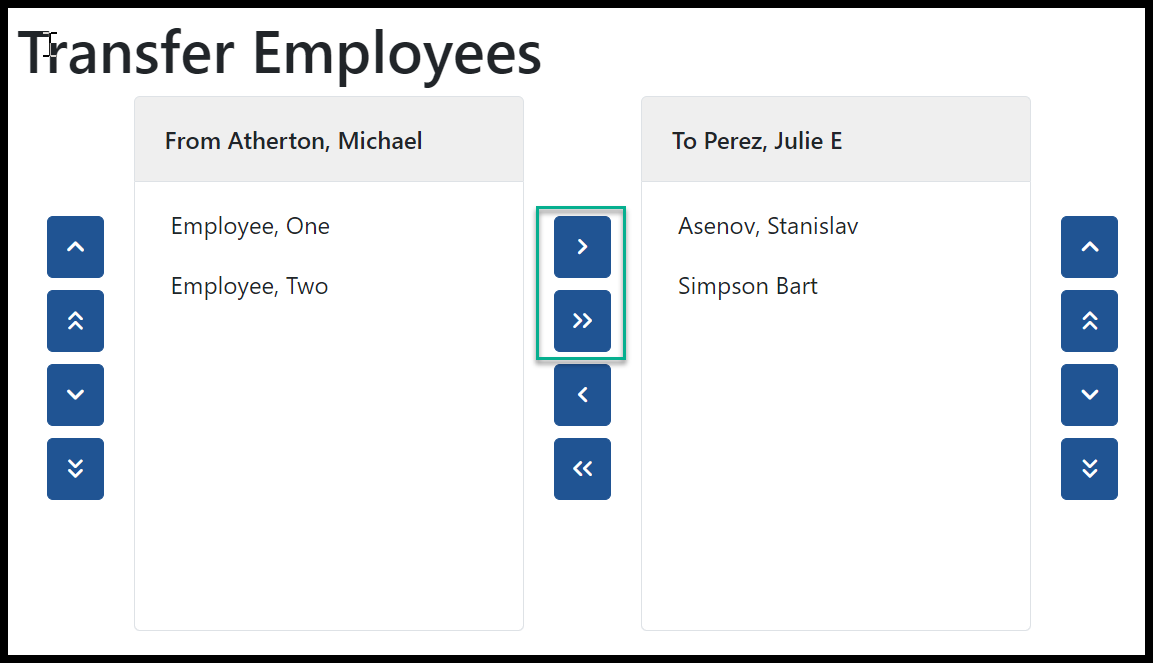 Need to move people back? Use the backward single or double arrow to return them to the original supervisor.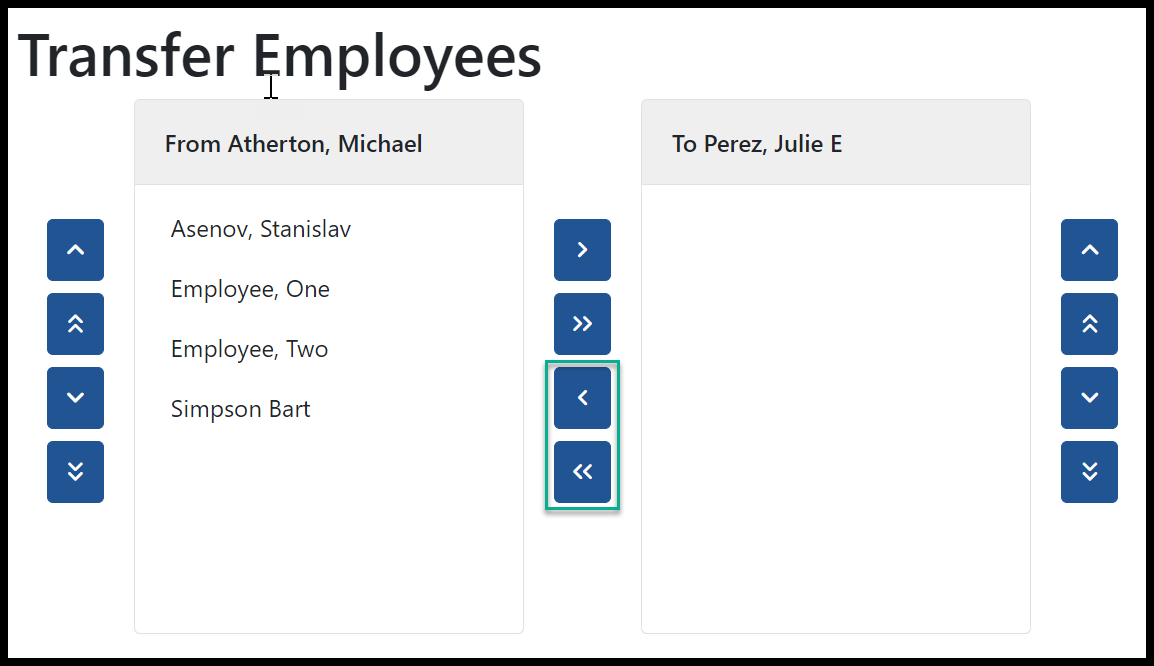 Once you're happy with everything, Confirm your updates to the roster. You will be notified of any employees whose active Annual Work Plan will be transferred to the new supervisor. Choose Confirm to make the change.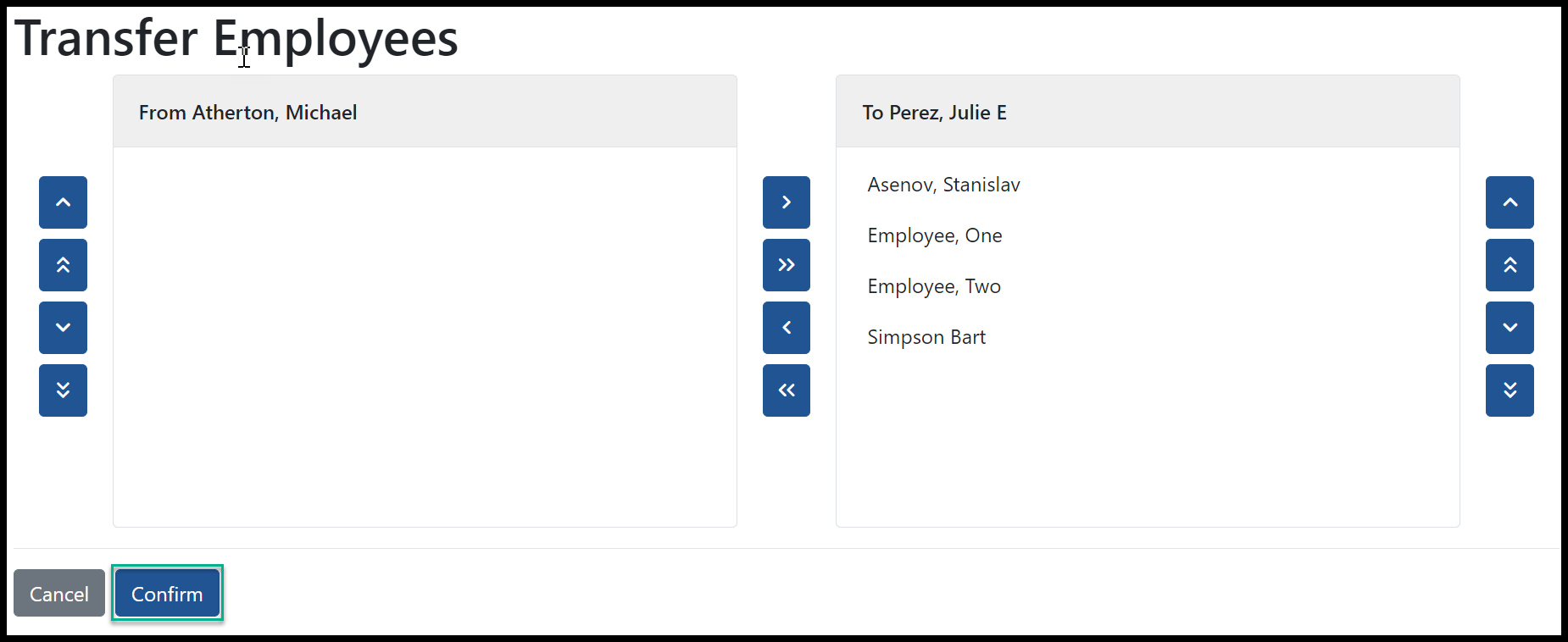 For additional help, please contact ISC at Post or ADG Support by selecting the 'Submit a request' button at the top of the page or by emailing 

adg-support@state.gov.
Visit the Global Application Portal (GAP) for the latest news and information on all the ADG's applications.